Standardization, commercialization, IP monetization, R&D competition or collaboration: SEP stakeholders — whether they are long-standing owners, new entrants in the market, investors, or even potential implementers — all need to know how many SEPs are owned by who in order to support their strategic decision-making.
As in
our previous report
, we are going to analyze last month's 5G SEP declaration data from
E
TSI
to track what has changed within
the 5G landscape and possibly uncover a relationship between the companies and the technologies disclosed.
ETSI Declaration Activity: April 2019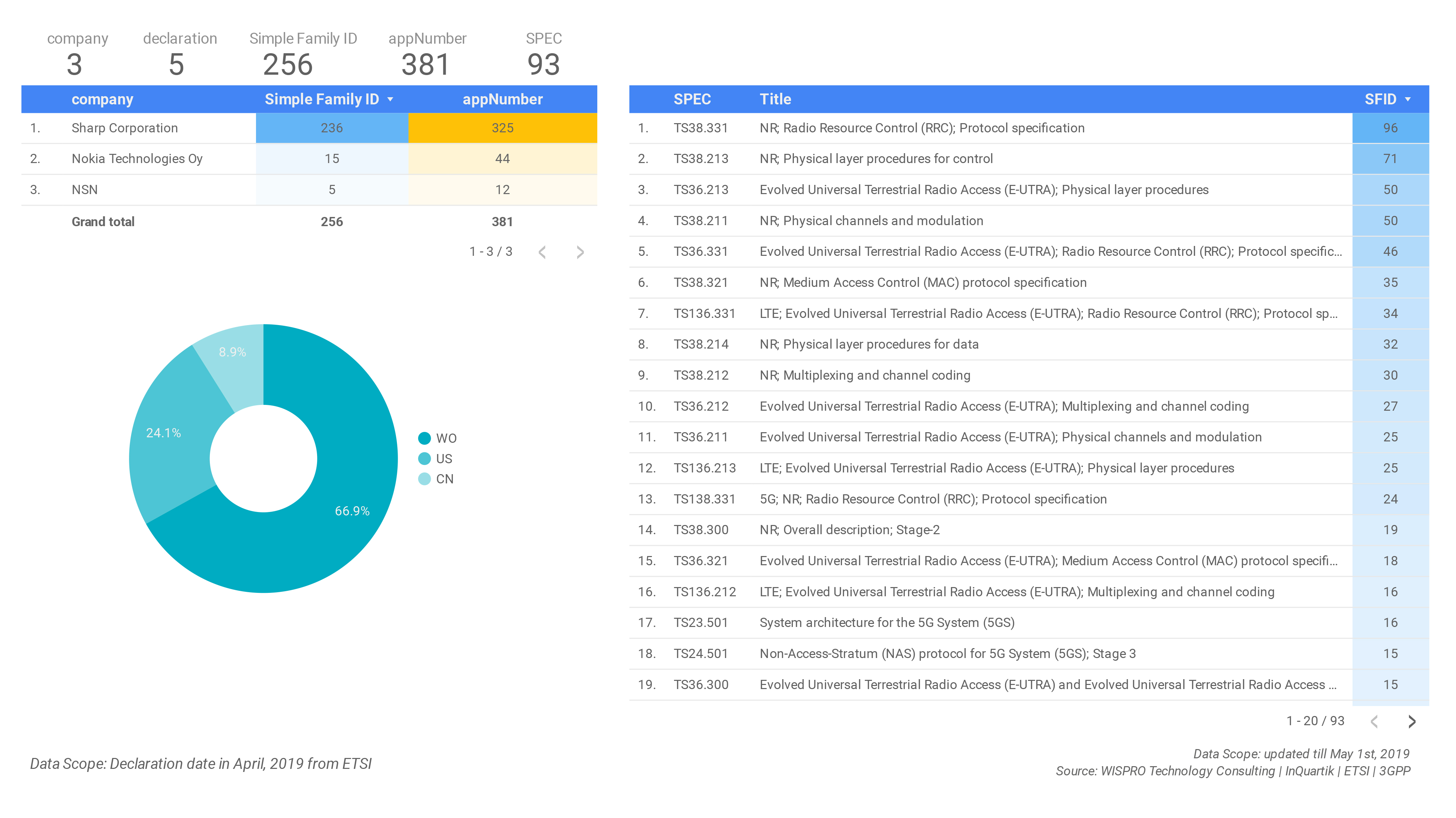 The target data for this report are US, WO, and CN patent applications,
excluding US provisional patent applications
, declared to ETSI in April 2019.
We notice straight away that five declarations were made by a total of three companies: in particular,
Sharp
declared more than 200 patent families,
Nokia
about 20.
While
Nokia
's declarations evenly distribute among WO, US, and CN patent applications,
Sharp
's declarations are predominantly focused on WO patent applications.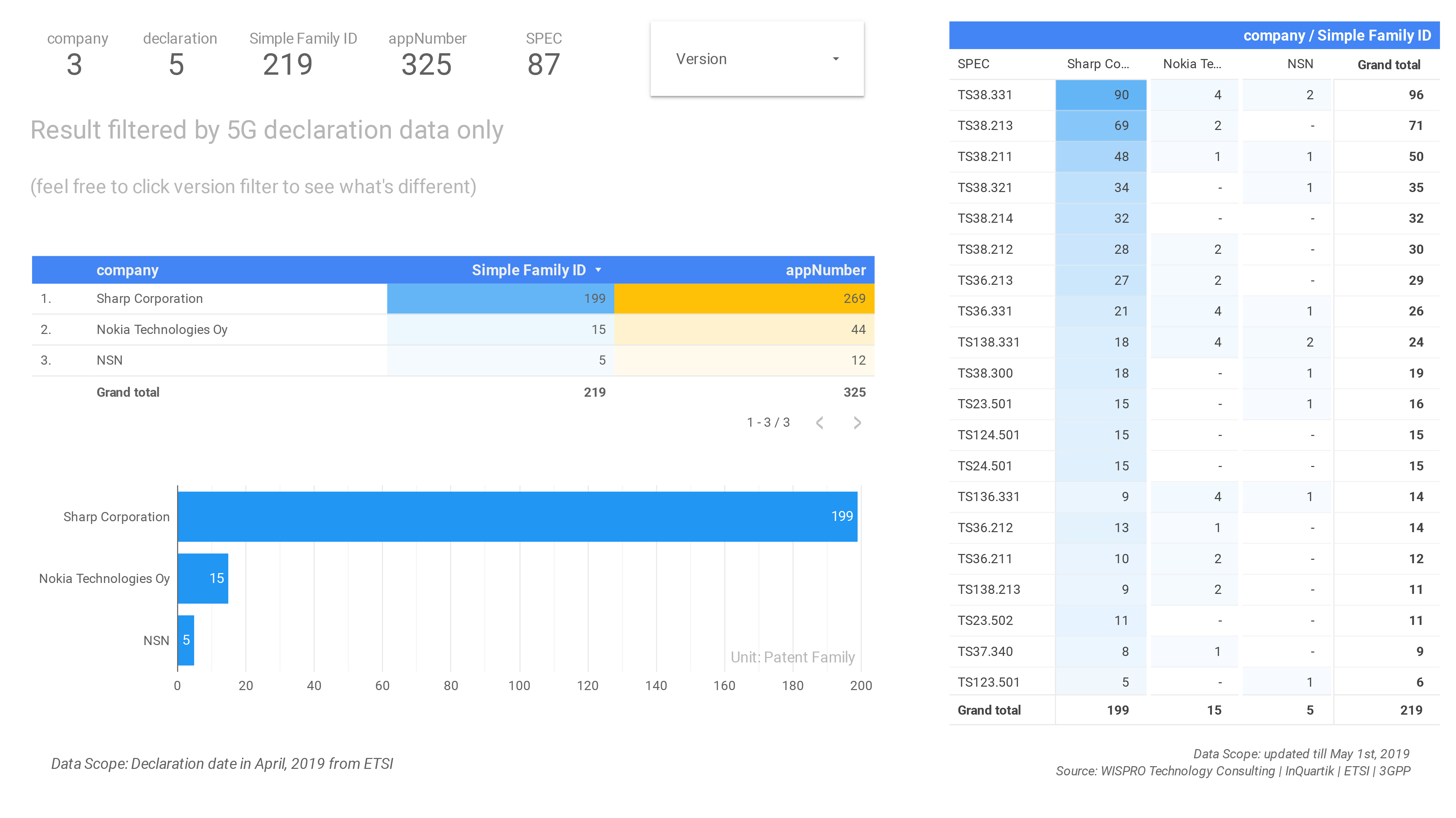 After further filtering the data through 5G-related queries, we compared with the previous one: what we found is that
Sharp
's declaration activity decreased from 236 to 199 patent families.
The table on the right-hand side of the dashboard above details which technical specifications have the highest number of declared patent families, together with their respective owners.
5G SEP Declaration Activity: The Rankings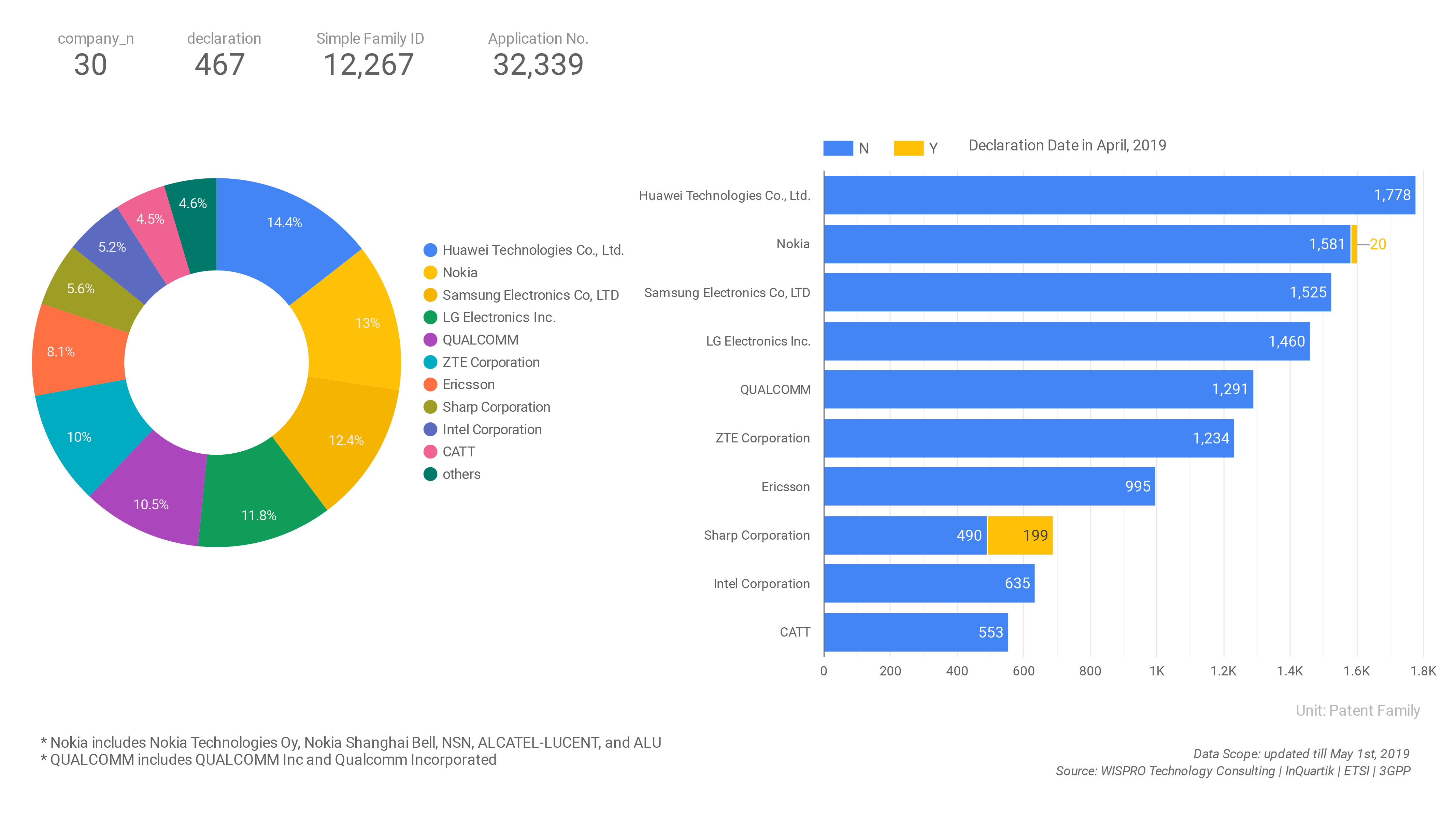 Let's take a look now at the updated rankings by taking into account the accumulated data (including but not limited to April 2019): 30 companies submitted a total of 467 declarations.
According to the quantity of declared 5G SEP families, the threshold to enter the Top 10 is 553 patent families (declared by
CATT
). We also notice that the companies in the Top 10 declared about 95% of the total declared 5G SEP patent families.  
A further comparison with the
previous report
highlights how the top SEP owners haven't changed. What has changed is their ranking, with
Sharp
climbing up the list from position 10 to position 8.
Some companies experienced an increase in the number of patent families declared: it is the case, for example, of
Ericsson
(from 820 to 995) and
Nokia
(from 562 to 635). Such increases, however, are probably not related to their declaration activity in April. According to our experience in observing ETSI raw data, the reason lies behind the delay between the declaration's submission date and the availability of the related data on the ETSI database.
Quality over Quantity: The Key to Standards
It should be noted that the rankings — mainly due to their temporary nature — only take into account quantity-related statistics and doesn't delve into quality issues.
Patent quality, not quantity, is what really counts when it comes to standards essentiality.
While agreeing that quality is critical for monetization purposes, we believe that the key to solving the 5G SEP puzzle is answering the question:
What is quality and how can we measure it?
"During the proposal or development of a standard, ETSI members must inform the Director-General in a timely fashion if they are aware that they hold any patent that might be essential."
The passage suggests that SEPs, in order to be deemed as quality SEPs, must possess at least two key characteristics:
essentiality
and
patentability
.
To comply with the policy, ETSI members have to inform the Director-General of any patent that they deem as essential according to their own assessment.
In other words, the declaration data available in the ETSI database
might
include non-essential documents, which are no more than just noise in this context: a quantity-based analysis, therefore, might not be reliable enough to convince everyone.
From a data analysis viewpoint, it's indeed difficult — and probably even impossible — to verify said key factors for each declared patent application.
To deal with this issue, we introduced some assumptions in our methodology. As for essentiality:
To comply with ETSI IPR POLICY, each ETSI member declares any patent that might be essential in a timely fashion;

To comply with ETSI IPR POLICY, each ETSI member won't declare any patent that might not be essential. This relates to the transparency that characterizes the ETSI database: should a member submit a low-quality (not essential) declaration, in fact, its credibility and reliability would be greatly affected.
As for another key factor — patentability — we do not take into consideration US provisional patent applications since they generally have fewer chances to become SEPs when compared to non-provisional patent applications.
For improving the reliability of our analysis, we are going to discuss other assumptions in the upcoming reports.
Technologies covered by the declared 5G SEPs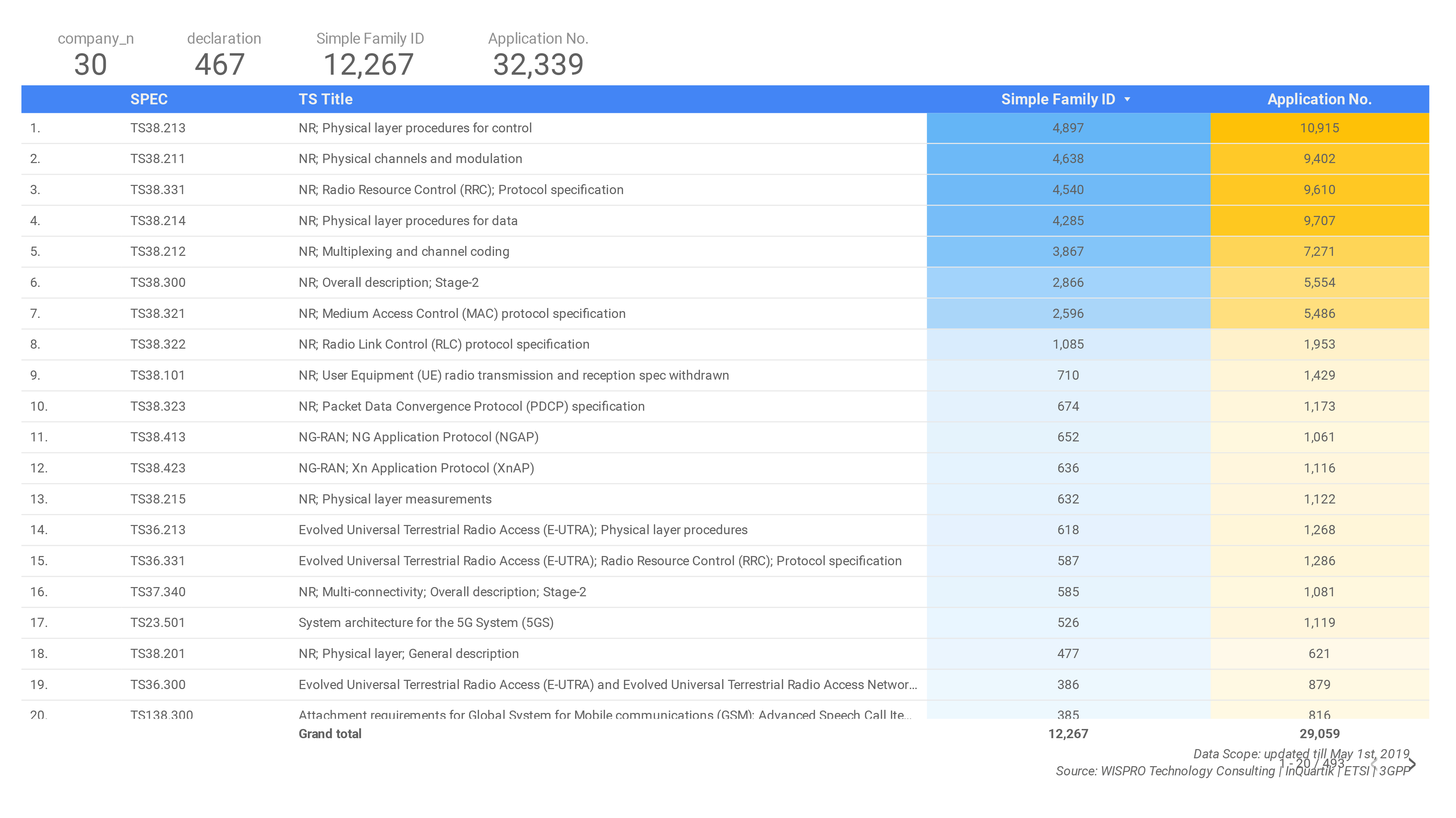 Let's take an overview of the technologies included in the declared 5G SEPs. According to the data set, the specifications mentioned are 493.
Besides, eight specifications are declared by more than 1,000 patent families. This enables us to analyze the relationship between companies and technologies disclosed.
As an example to share what we have uncovered we selected two companies that are operating in the telecommunications industry.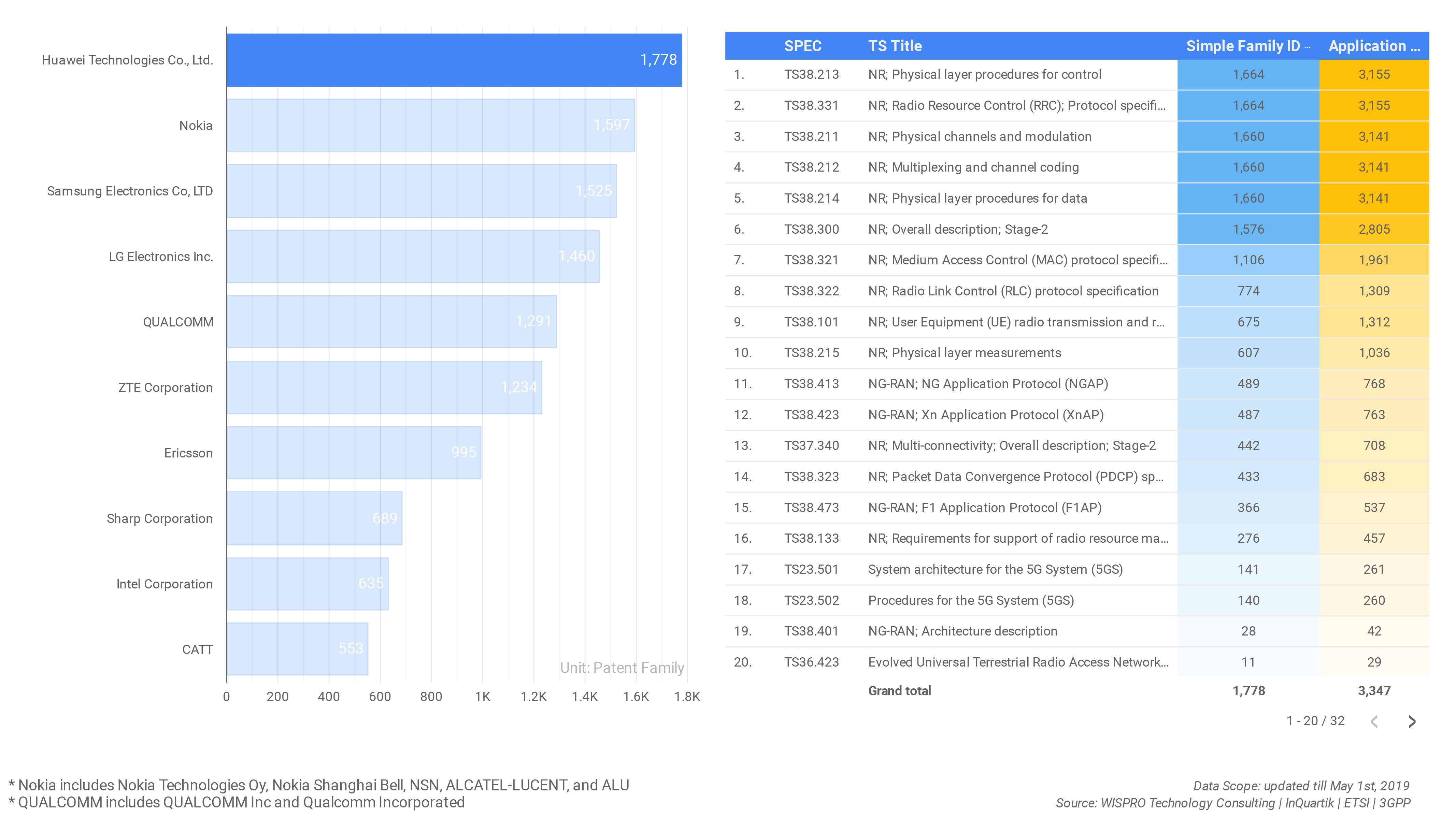 Huawei
operates in the following businesses: base stations, user equipment, and other network solutions. Furthermore, Huawei's subsidiary
HiSilicon
develops its own
Kirin SoC
chipsets for
Huawei
-branded user equipment (e.g. smartphones).
As shown in the dashboard, there are 32 specifications mentioned by 1,778 patent families. According to the quantity distribution,
Huawei
's SEPs covers three main technology groups:
More than 1,000 patent families are related to seven specifications, including

Protocols and Procedures in Physical Layer and MAC Layer

,

Modulation

,

Channel Coding

, etc.;

Between 100 to 1,000 patent families are related to eleven specifications, including

Radio Link Control (RLC)

,

Physical Measurement

,

Application protocols

, etc.;

Less than 100 patent families are related to specifications such as

Architecture

.
Typically, one patent family might relate to one or more specifications, meaning that one patent family might be counted several times in different specifications.
Referring to the screenshot below, several
Work Item / Standard no.
are mentioned in the declaration (ISLD-201812-071) for patent
WO2015CN18544
: the same patent family will then be counted in several specifications, explaining the high numbers in the chart on the right-hand side.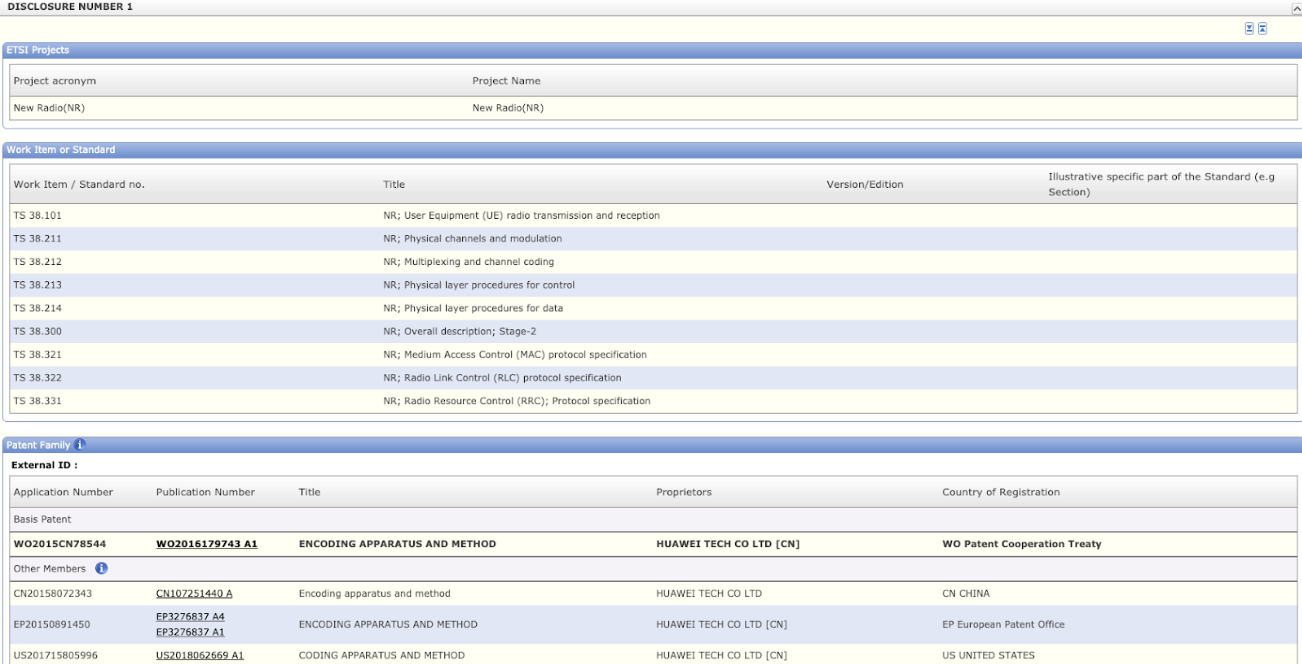 In
Huawei
's case, there are seven specifications mentioned by more than 1,000 patent families. It is reasonable to conclude that a major part of
Huawei
's SEPs is covering a combination of different specifications instead of a single specification.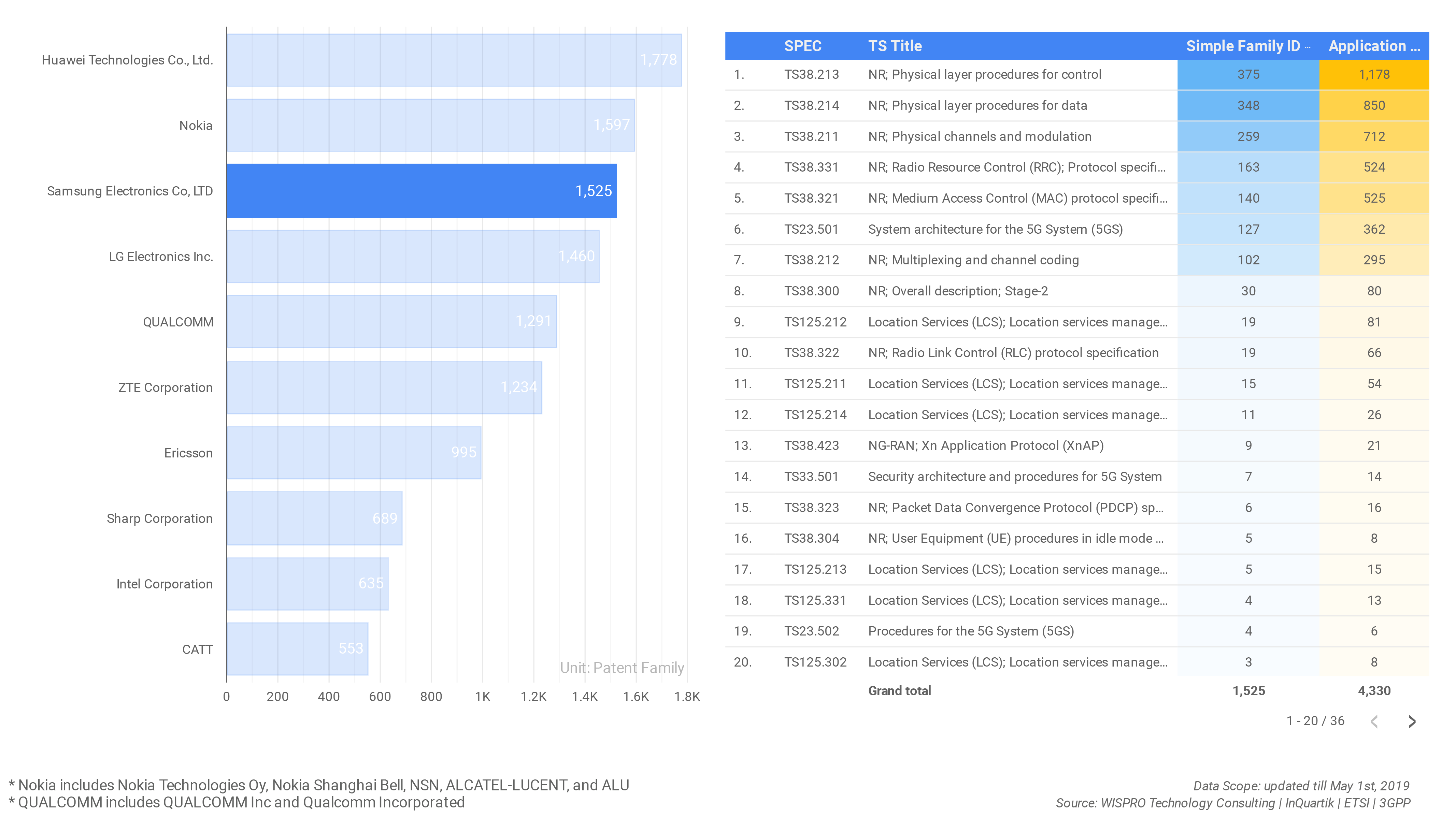 Samsung's business is similar to Huawei
as it also provides user equipment (e.g. smartphone), mobile chipsets (
Exynos
mobile processors) for their branded smartphone, and base stations. The competition between the two, therefore, is unavoidable.
As shown in the dashboard, there are 36 specifications mentioned by 1,525 patent families. A comparison with
Huawei
highlights several noteworthy findings:
Samsung

is developing some of the technologies that

Huawei

is developing, e.g.

Protocols and Procedures in Physical Layer and MAC Layer

,

Modulation

, etc.;

Samsung

also focuses on different technologies, e.g.

Location Services (LCS)

, which are not mentioned in

Huawei

's declaration data;

A major part of

Samsung

's SEPs covers a single specification instead of a combination of multiple specifications, which is substantially different from what

Huawei

has been doing. Please refer to the screenshot below for patent

US201214348990

disclosed in ISLD-201810-074: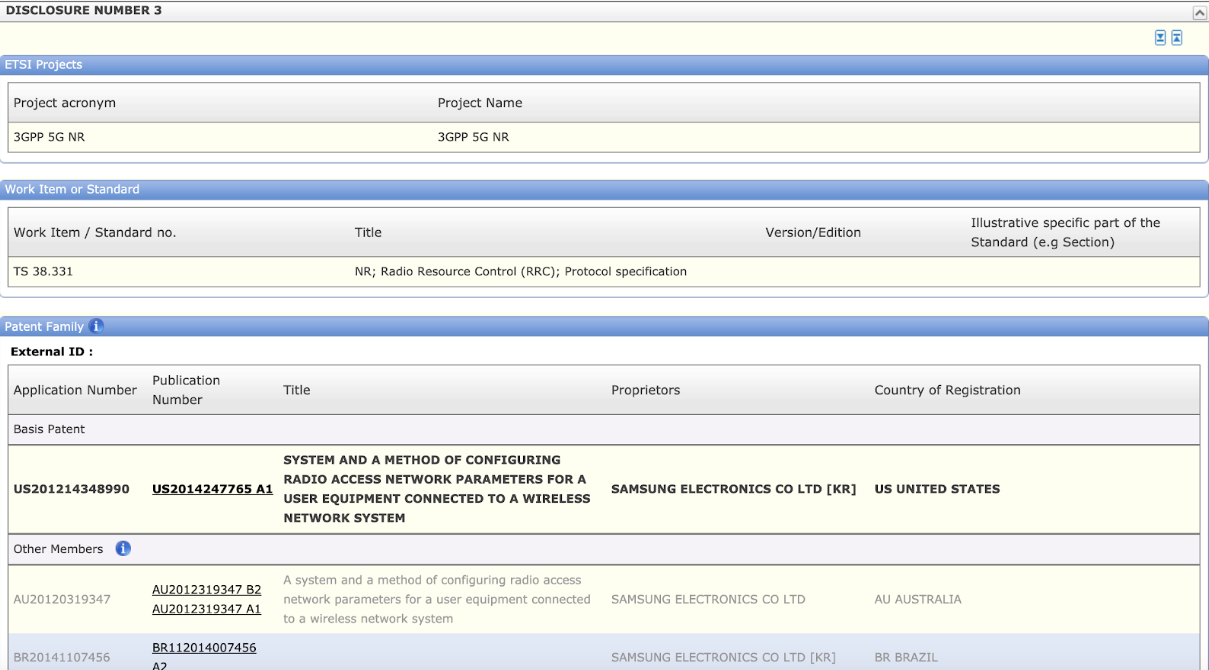 Even though the declaration data might not be the most representative from a quality (essentiality) viewpoint, it is still the most reliable data available to the public since ETSI members have the obligation to comply with the
ETSI IPR POLICY
. It goes without saying that such data can be verified by a strict process of essentiality and patentability check to get more accurate results.
As said, being a SEP stakeholder involves taking many decisions related to R&D competition/collaboration, standardization, implementation/commercialization, IP monetization, and related investment.
To support such decisions, declaration data is valuable for getting information and further insight. Therefore, we will continue to analyze, track, and deliver our observations on such data based on the working assumptions mentioned above.
Last, but not least, this report also provides several interactive dashboards that readers can utilize to further browse the data and get customized charts:
Select one or more companies to identify which specifications they declared, which ideally represent the technologies they are investing in (in terms of R&D and patents);

Select one or more specifications to identify which companies declared them. Such data suggest which companies have declared SEPs relating to such technologies, enabling us to identify not only the innovators but also the competitors/collaborators in the 5G landscape.
Annex 1. Top 10 Companies vs. SPEC declared to ETSI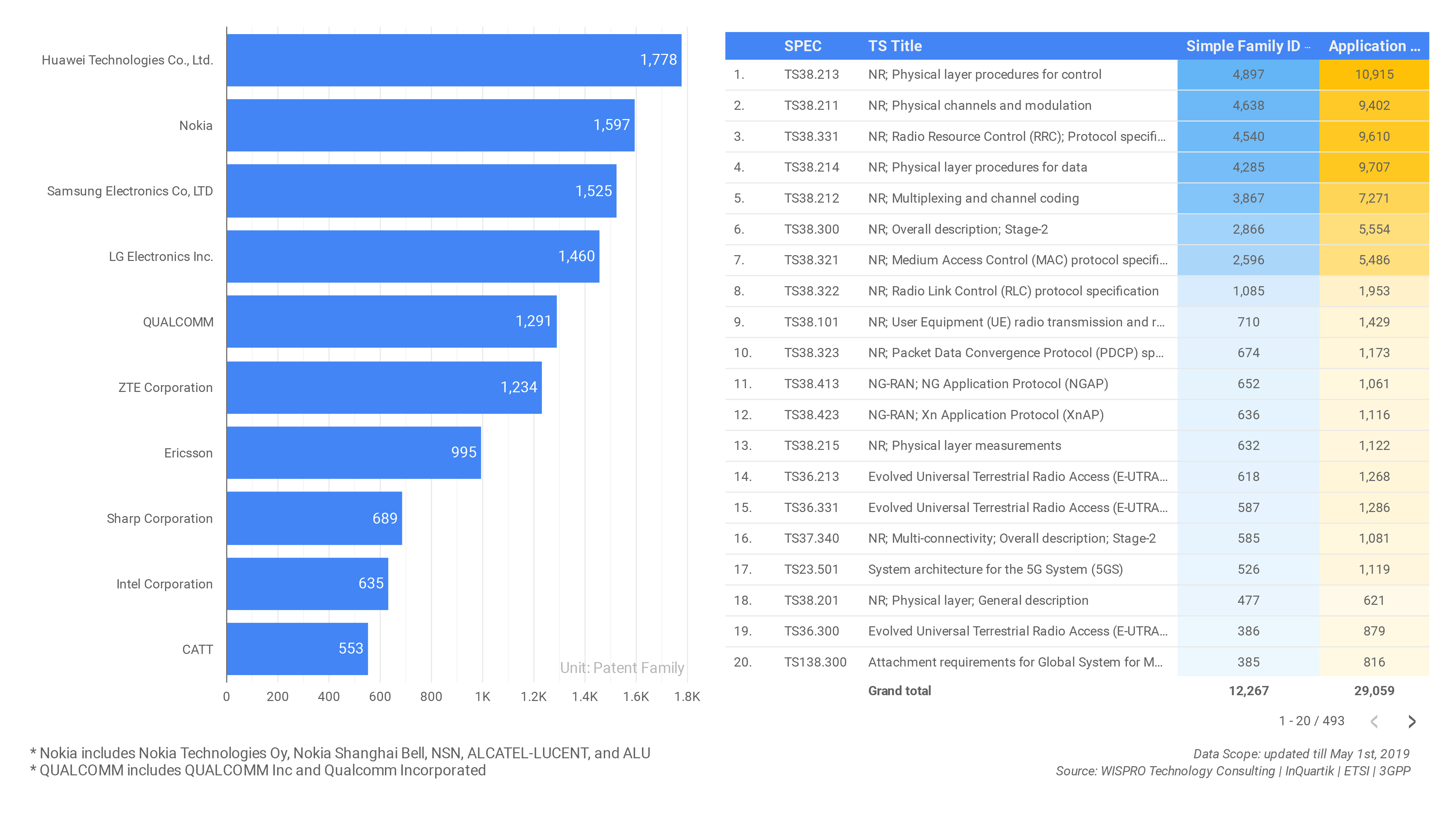 Annex 2. Company vs. SPEC declared to ETSI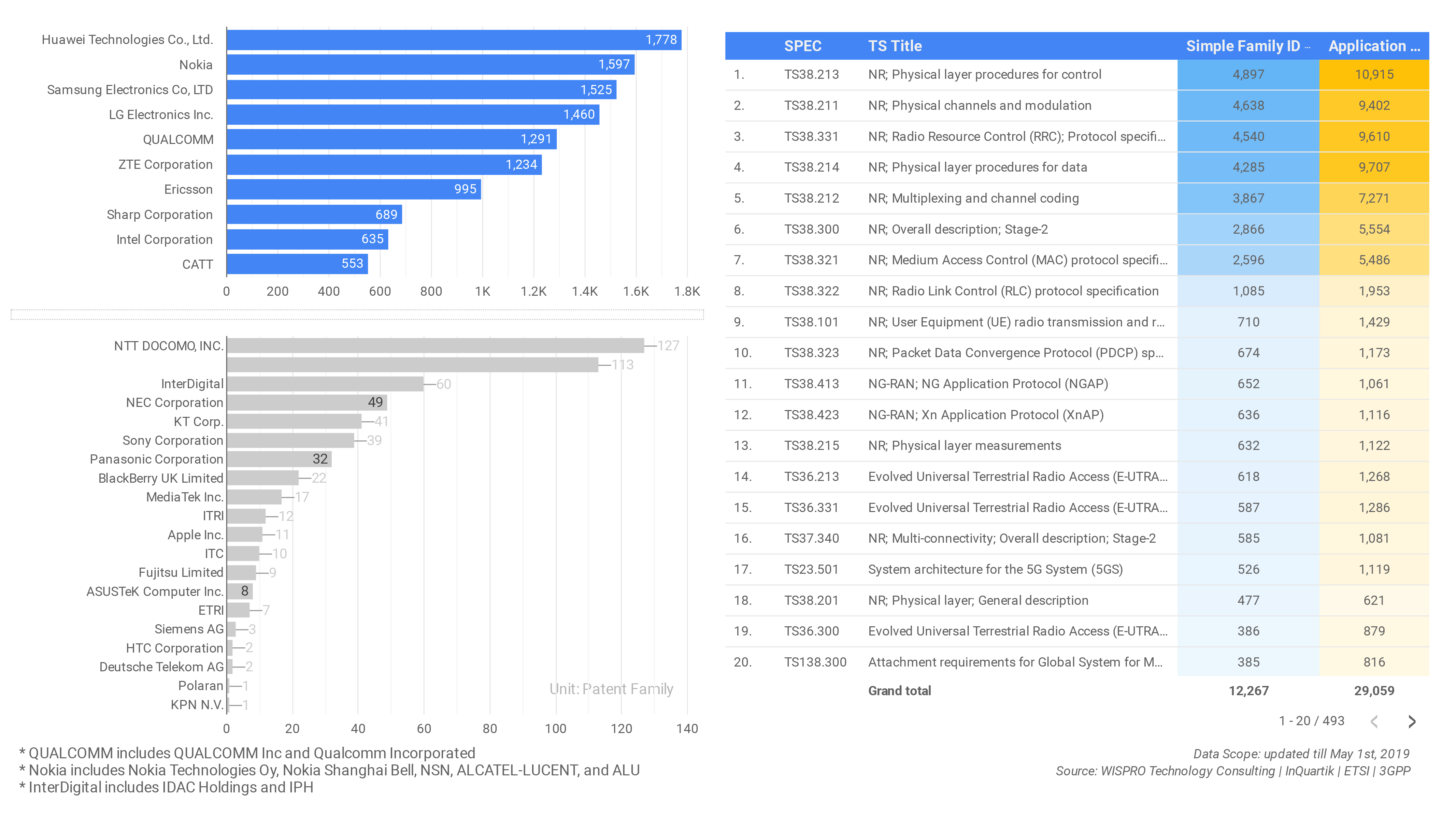 Follow us for the upcoming reports in the series: any feedback is appreciated!
Data disclaimer: We have used commercially reasonable efforts to ensure that the data provided is complete and has been obtained from reliable sources. The information contained in this report is current as of the date of this report and may not reflect any circumstances that occur after such date. This report is not intended as legal advice. All information is provided "as-is" and we make no representation or warranty of any kind. We will not be liable for any lost profits, revenues, indirect, special consequential, exemplary or punitive damages resulting from this report.