The value and growth of the global medical imaging industry have attracted global investors and technical teams into artificial intelligence solutions for medical imaging.
According to the Global Medical Imaging Trends research report released by ITN Online in 2017, the total number of global medical images will increase at a compound annual growth rate of 5.1% from year 2016 to 2021.
In addition, Market Research Engine's market research report also pointed out the estimated production value of medical imaging will grow from $2.2 billion in 2015 to more than $3 billion in 2021, with a compound annual growth rate of 8.0%.
Looking into the dynamics of international investment and M&A activities in the field of AI medical image analysis, investment and M&A deals have increased significantly in the past six years,  with a total of 59 deals during years 2012 to 2018, value over 631 million US dollars.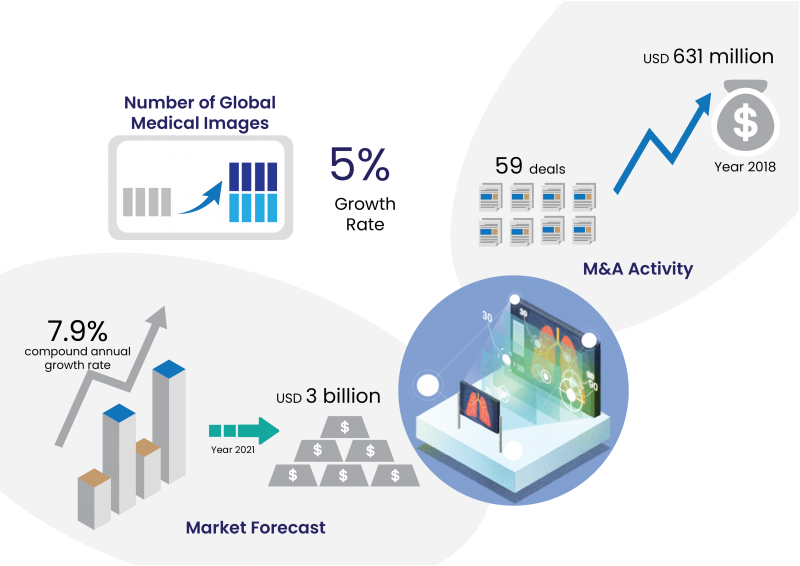 Global Medical Imaging Market Overview / Source: ITN Online, PitchBook
While the medical imaging market looks promising, there are several barriers to growth that need to be overcome before AI becomes mainstream in medical imaging. Partnership is a key theme for the sector, technology companies are partnering with innovative AI start-ups, as well as hospitals and academic institutions to develop novel solutions. Thus, it is critical for a medical image analysis company to have a competitive advantage through strategic collaborations and partnerships.
Take MeVis as an example, being a provider of computer support for image-based medical diagnosis and therapy, MeVis collaborated with medical imaging device manufacturers to expand its distribution channels, and also partnered with other medical image analysis companies for system integration to create stable revenue streams. In addition, through acquisitions and investments of other medical image analysis companies, MeVis further acquired technology solutions in various areas to maintain its products' performance advantages.
Potential Partners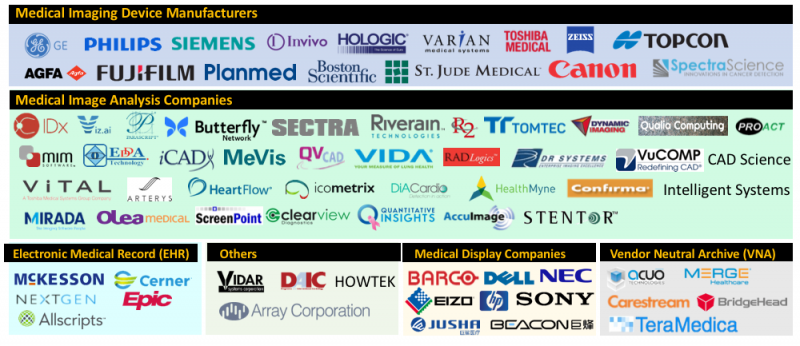 Types of Business Collaboration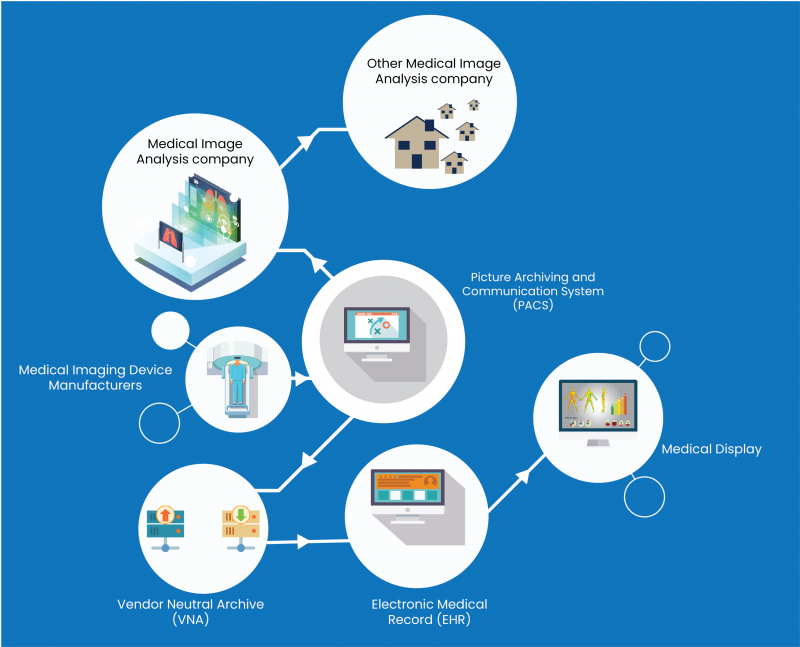 In order to expand customer base, enhance user experience, and improve product performance, the following examples are provided to demonstrate different types of business collaboration:
Intellectual Property Portfolio Management
From startups to all size businesses, intellectual property is often a company's most valuable asset, the investment target's patent position is usually the primary focus in the early stages of an acquisition in biological/pharmaceutical industry. Intellectual property within the products and services of medical image analysis companies is mostly focused on associated data, algorithms and parameters. Companies should be proactive with intellectual property in the early stages of their businesses.
Any type of information that is not generally known by the public should firstly be protected as trade secrets, this can be evidenced by a recent report from Lex Machina that an increasing number of companies are turning to the assertion of trade secret claims to protect their intellectual property rights in federal courts, the number of case filings jumped by more than 30% in 2017 after the passage of the Defend Trade Secret Acts in 2016. Also, in terms of copyright, it is particularly important to have an in-depth understanding of the restrictions and treaties related to open source codes, so as to avoid the decline in product's competitiveness while expanding its market reach.
Patenting in medical imaging industry is an extremely active area, technology and pharmaceutical giants such as Philips, IBM, GE, and Siemens have been patenting heavily and racing to acquire start-ups. Technology and pharmaceutical industries depend strongly on patent rights to recover from their investments and fund their further research and development, consequently, start-ups and innovators often face a highly litigious patent environment. One's product or service might unknowingly fall within the scope of (or "infringes") other's patent's claims, systematically evaluating patent risks prior to launching a new product or service is, therefore, a way of minimizing the risk of infringing patents owned by others. By using a patent portfolio management platform which leverages artificial intelligence and big data analytics for better business decisions, such as PatentCloud , may help companies instantly assess the patent quality and value of the companies' patent portfolio, keep ahead of the competition by immediately obtaining a detailed patent analysis of competitors' portfolios, and deploy the companies' patents to strengthen their competitive advantages.