The Intel patent auction is definitely a golden opportunity for companies seeking to become leaders in the wireless communications landscape within a very short time. The company has recently announced that its massive wireless patent portfolio — including a big chunk of 5G assets — is now on sale, provoking discussion among the market's insiders. But what should potential buyers know before stepping into the game?
But first, we are going to provide and analyze the latest data on 5G SEPs, including ownership ranking and technology analysis. This is a follow-up to our
previous report
, which focussed on data released in April.
The data scope for this report are US, WO, and CN patent applications (excluding provisional patent applications) declared to ETSI in May 2019.
5G ETSI Declaration Activity: May 2019
The charts above show that
ZTE
,
CATT
,
Vivo
,
Samsung
, and
LG
are the top 5 SEP providers for the month of May. While most SEPs have been declared by
ZTE
, we can spot a new entry:
FGI
.
The interactive dashboard also details the number of declared patent families for each technical specification. The Top 3 for the month of May are:
TS38.331 (Radio Resource Control)

;

TS38.213 (Physical Layer Procedures for Control)

;

TS38.211 (Physical Channels and Modulation)

.
5G SEP Declaration Activity: The Rankings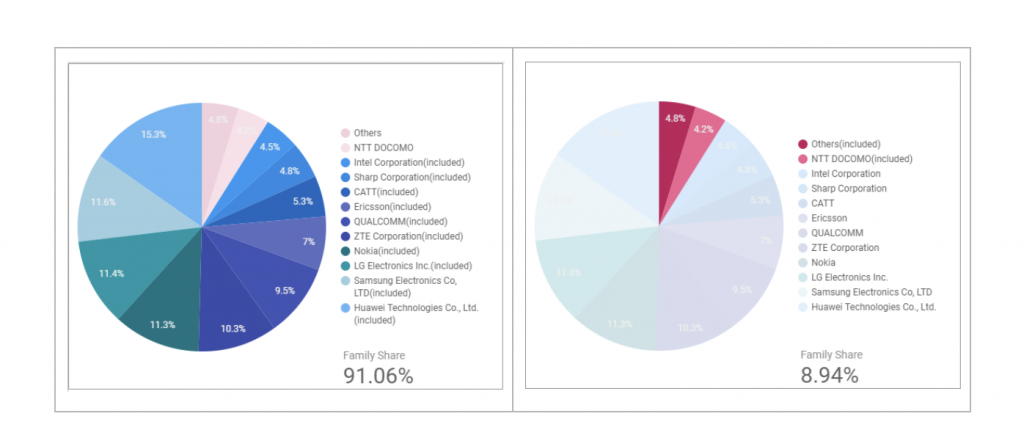 Now, let's take a look at the accumulated SEP ranking. As of July 1st,
Huawei
still holds the highest number of SEPs.
Samsung
,
LG
,
Nokia
,
ZTE
complete the Top 5.
If we only consider the quantity of declared 5G SEP families, the threshold for entering the Top 10 increased from last month's 553 patent families (declared by
CATT
) to 648 patent families (declared by
Intel
).
The data for May also highlights some changes in the ranking. In the Top 10,
CATT
rose from the bottom of the list to position 8 (+203 patent families).
Even though
SHARP
didn't increase the quantity of declared SEPs,
Intel
dropped from position 9 to the bottom of the list. The gap between the two companies is of around 40 patent families.
Exclusive Analysis: Intel Patents Are On Sale
Last month, IAM
reported
that tech giant Intel was going to auction its wireless patents — including a big chunk of 5G assets — attracting a great deal of interest from the market. 
The article, however, simply reported the number of patents on sale without providing any further details. In the following analysis, we are going to focus on the SEPs declared by
Intel
.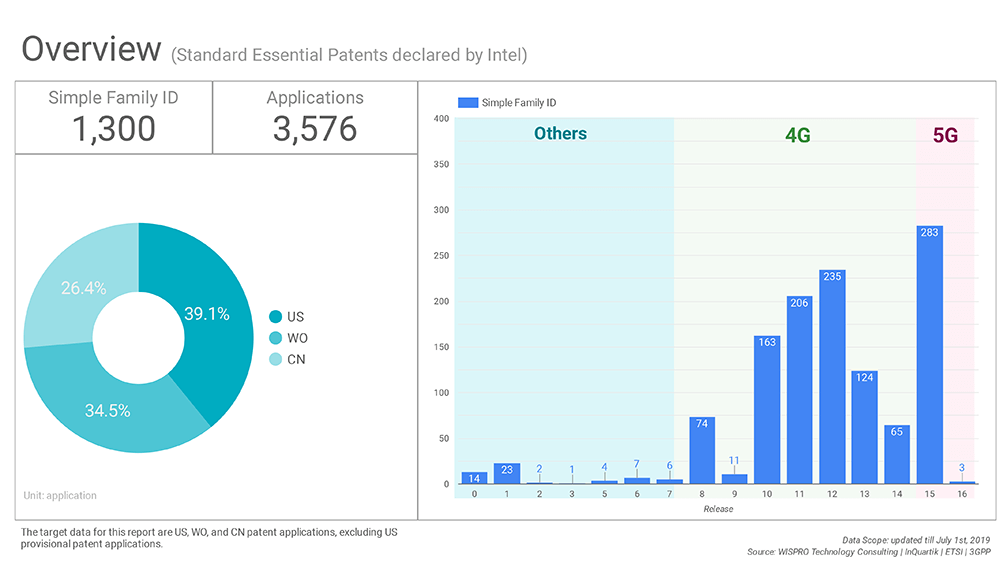 According to the overview,
Intel
declared 1,300 patent families and 3,576 applications in total. Using the 3GPP classification, we noticed that a substantial portion of patents cover the 4G technology. Besides, the highest number of patent families are related to
Release 15
.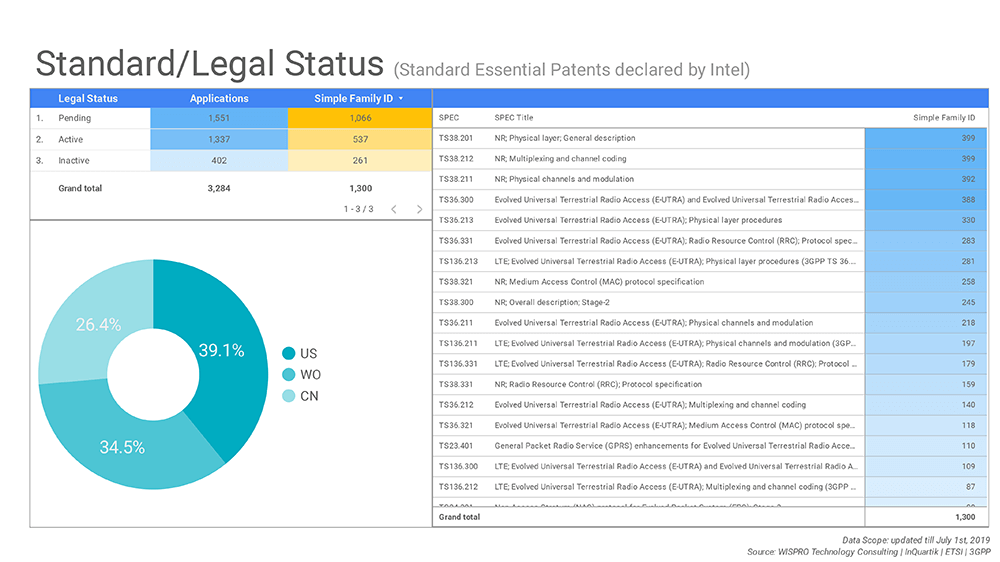 Now, let's further dig into the data. The dashboard above illustrates the relationship between country of application, technical standard declared, and legal status (pending, active, and inactive). Let's take a look at the relationship between legal status and country of application.

Now let's shift our attention to the relationship between legal status and technical standard declared. 
The table below shows the Top 3 Technical Specifications for each legal status: most pending patents are concentrated in the NR (5G)
Physical Layer
category, in particular in TS38.212 (Multiplexing and Channel Coding).
Active patents also focus on
Physical Layer
but are mostly related to E-UTRA (4G). Interestingly, inactive patents have the same Top 3 Technical Specifications as active patents.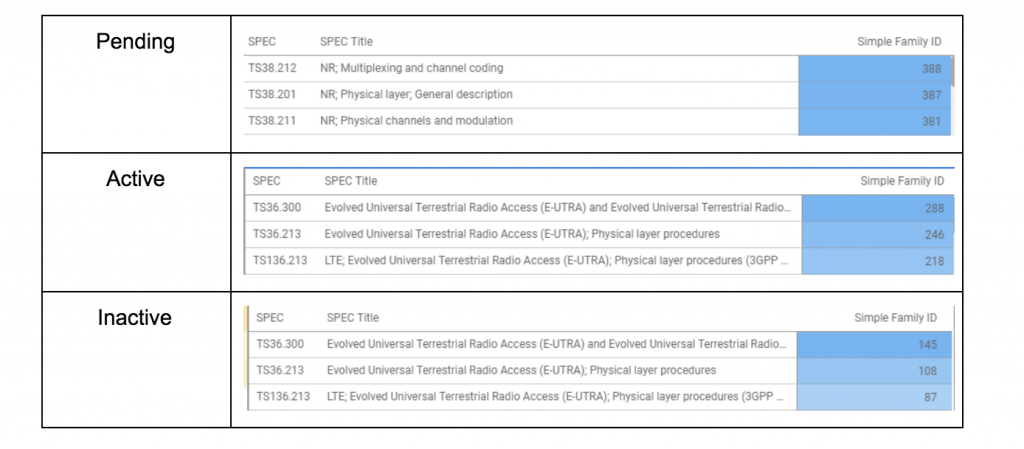 As mentioned in our last report, there are at least two critical factors that may have an impact on the quality of SEPs: essentiality and patentability. In the paragraphs below, we are going to show how Intel's declared SEPs may encounter patentability challenges because of legal statuses being different between members of the same patent family.
First, we created a matrix detailing the legal status of patents within SEP families that cover both US and CN. Among these, we focussed on those that comprise at least one inactive patent (shown in blue). This causes the legal status of patents or patent applications within the same patent family to be un-synchronized:
could this bring to patentability issues during examination
? In other words, for these patent families comprising at least one inactive patent (which has been invalidated by a third party) , there is a higher possibility of existing prior art references being uncovered by patent examiners from different PTOs. Potential buyers should know such fact before commencing any transaction activity, mainly to avoid investment risk. 
After filtering the data, we found 134 patent families (1279 applications) with these characteristics: therefore, the potential buyers of these assets should take extra care in considering them.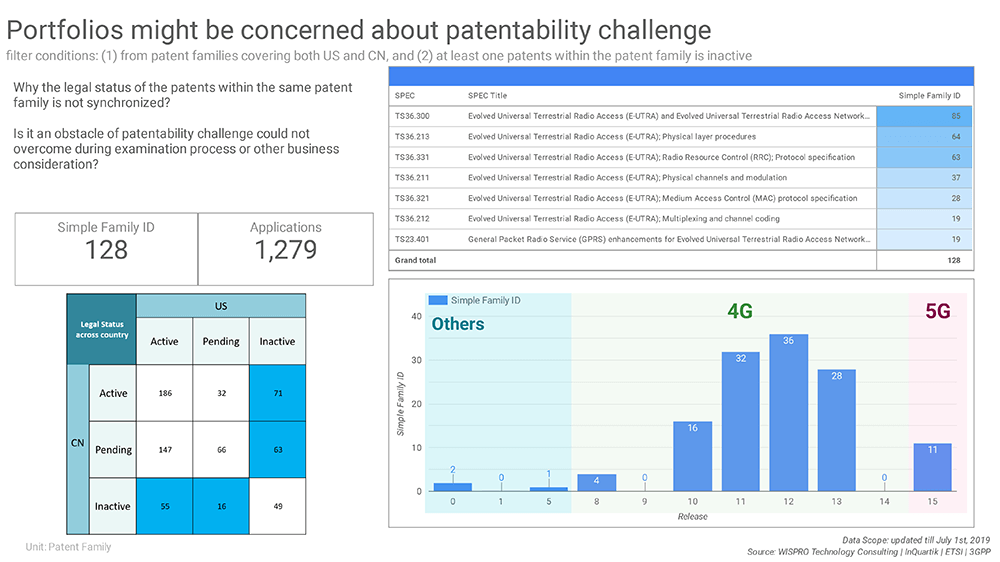 It should be clear by now that digging into portfolios is a practice that every potential buyer or licensee should carry out to prevent issues down the road. As we just saw in the Intel case, in fact, analyzing the data in detail allowed us to uncover potential pitfalls. These insights, combined with an already-consolidated patent strategy, can help in making better decisions.
Stay tuned for the upcoming reports in the series: any feedback is appreciated!
Data disclaimer: We have used commercially reasonable efforts to ensure that the data provided is complete and has been obtained from reliable sources. The information contained in this report is current as of the date of this report and may not reflect any circumstances that occur after such date. This report is not intended as legal advice. All information is provided "as-is" and we make no representation or warranty of any kind. We will not be liable for any lost profits, revenues, indirect, special consequential, exemplary or punitive damages resulting from this report.