"By applying a new filter to our definition of 5G, the declared SEPs ranking has changed!"
In the past, we only considered two fields in the data for each declared SEP in order to define 5G. Unfortunately, when these two components were not useful, we were not able to label this data with specific radio technologies. Recently, however, we have discovered a useful and reliable field that just may strengthen our labels–"radio specification." When simultaneously using these three components–or, in other words, putting the search operator "OR" between each search query–we were able to obtain a new declared SEPs ranking. In this new ranking, we have observed that the quantity of declared SEPs has increased slightly–or even dramatically–for some companies.
5G ETSI Declaration Activity: November 2019
The above charts indicate that
ZTE
,
CATT
,
Vivo
,
InterDigital
, and
Samsung
are the top 5 declarants of 5G SEPs for November 2019. Interestingly, according to the bar chart,
InterDigital
declared over one thousand patent applications, but these belong to only 163 patent families, which means the ratio is around 16%. This ratio is significantly lower than other companies that had declaration activities in November.
The dashboard also details the number of declared patent families for each Technical Specification. The top 3 Technical Specifications for November 2019 are as follows:
TS38.331 (Radio Resource Control)

;

TS38.213 (Physical Layer Procedures for Control)

;

TS38.321 (NR; Medium Access Control (MAC) protocol specification).
Cumulative Rankings for 5G SEP Declaration
Top 10 Owners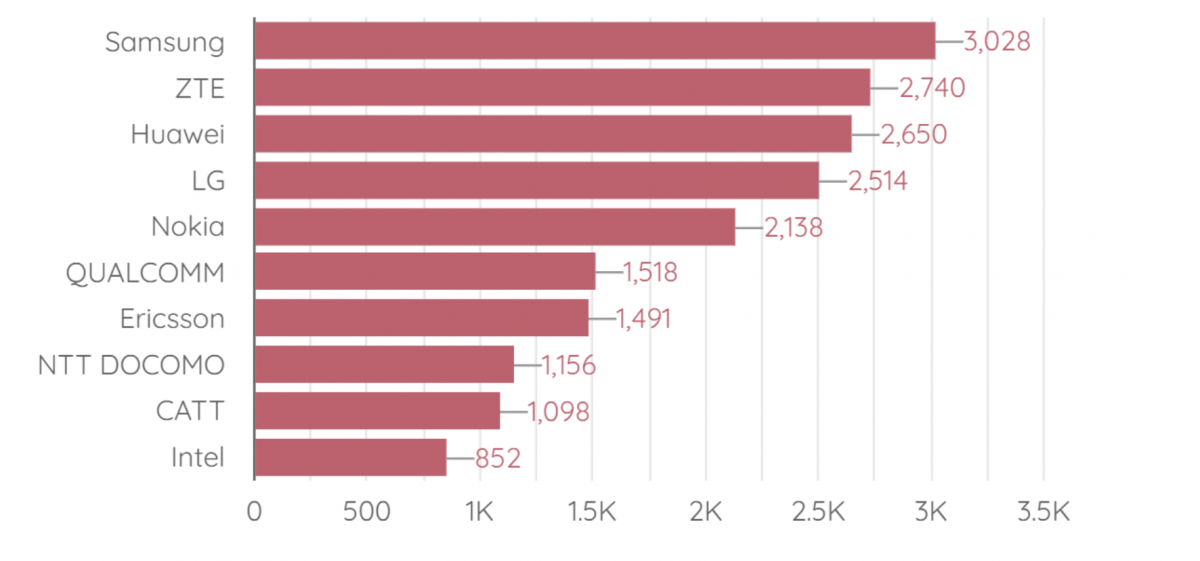 Now, let's take a look at the cumulative rankings, which have been updated to the last day of 2019. Here,
Samsung
holds the first position, with
Huawei
,
LG
,
ZTE, Nokia
rounding out the top 5. As mentioned at the beginning of this article, we are now using a new query to find even more potential 5G declared SEP data. 
Out of all of these changes, it is worth highlighting that
OPPO
has almost doubled its quantity of declared SEPs in comparison to our published report in the past. The new query, which is radio specification, actually has a lot of different series that have been recorded in the 3GPP official website. Currently, we are only using the
38
series to define 5G, and we will add more series that are relevant to 5G in future reports.
Furthermore, if we take only the quantity of declared 5G SEP families into consideration, the benchmark for entering the top 10 is still 852 patent families (declared by
Intel
).
Earliest Priority Date and Legal Status
For this page, we have provided a dashboard with the relationship between the earliest priority date and legal status. In summary, we have 28,751 active patents, 5,939 inactive patents, and 30,194 pending patents. The classification of legal status has been defined by InQuartik; please visit the
InQuartik website
for further reference.
Standards
Among the top 10 standards, there are 7 standards with a title containing the keyword phrase "New Radio" ( NR ), and they are all subseries in the
38
series. At present, we have 458 3GPP specifications and the reason we emphasize "3GPP" is that ETSI has its own specifications, and we have labeled specifications in order to distinguish them. 
If we click on TS38.213, which holds the first position in 3GPP spec, the ranking will change. That is, we can learn just how much these companies are involved in a certain technology. On the other hand, if we choose one of the companies in the bar chart, the spec table can tell us which technologies a company has focused on and how many patents are involved for each technology.
With the application of this new query, we are one step closer to gaining a more realistic picture of the situation behind declared 5G SEPs. However, in order to complete the declared 5G SEP data, we will continue to look for possible factors that can help to define radio technologies.
Data disclaimer: We have used commercially reasonable efforts to ensure that the data provided is complete and has been obtained from reliable sources. The information contained in this report is current as of the date of this report and may not reflect any circumstances that occur after such date. This report is not intended as legal advice. All information is provided "as-is" and we make no representation or warranty of any kind. We will not be liable for any lost profits, revenues, indirect, special consequential, exemplary or punitive damages resulting from this report.