"With the upcoming commercialization of 5G in 2020, SEP licensees and licensors must pay close attention to the latest 5G SEP trends."
The data retrieved for this report is for US, WO, EP and CN patent applications (excluding US provisional patent applications) declared to ETSI in November 2019.


In the following page, these entities will be combined into one group


* CATT includes CATT, and CATT(Datang).
* QUALCOMM includes QUALCOMM Inc and Qualcomm Incorporated.
* Nokia includes Nokia Technologies Oy, Nokia Shanghai Bell, NSN, ALCATEL-LUCENT, and ALU.
* InterDigital includes IDAC Holdings, InterDigital Holdings, IPH, and ITC.
* NTT DOCOMO includes NTT DOCOMO INC. , and NTT DOCOMO, INC. 
5G ETSI Declaration Activity: October 2019
The above charts indicate that ZTE, Nokia, LG, FGI, and Samsung are the top 5 declarants of 5G SEPs for October 2019. We have noticed that there has been a significant increase in SEP declarations when compared to the last two months.
The dashboard also details the number of declared patent families for each Technical Specification. The top 3 for October 2019 are as follows:
TS38.331 (Radio Resource Control)

;

TS38.213 (Physical Layer Procedures for Control)

;

TS38.211 (NR; Physical channels and modulation)

.
Cumulative Rankings for 5G SEP Declaration
Top 10 Owners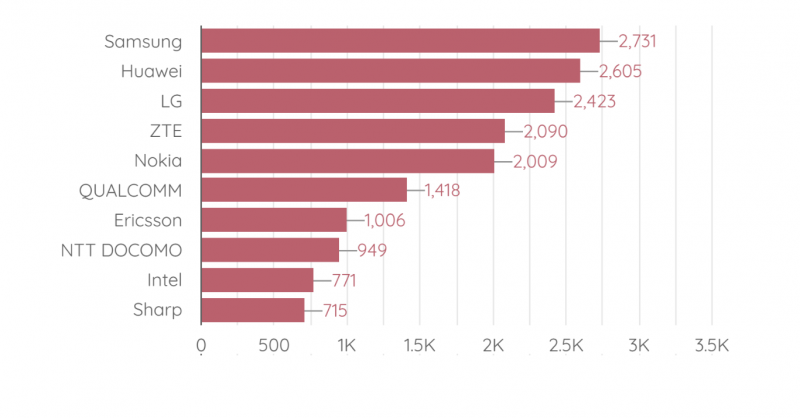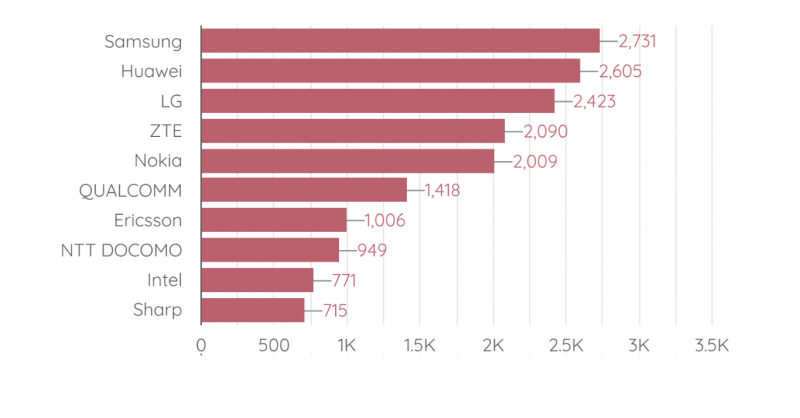 Now, let's take a look at the cumulative rankings. Surprisingly, Huawei has now passed the number one position to Samsung in the quantity list for declared SEPs. It's also worth noting that Huawei previously held the top spot for the highest quantity of declared SEPs for almost seven months. Currently, Huawei, LG, ZTE, Nokia complete the top 5.
Furthermore, if we take only the quantity of declared 5G SEP families into consideration, the benchmark for entering the top 10 is 715 patent families (declared by Sharp.)
The 2020 Olympics in Tokyo is fast approaching, more and more mobile operators and equipment manufacturers have announced that they will trial 5G commercialization during this period. An

article

published by Forbes in September stated that "Intel has provided more details about how it plans to use technology (5G) at this the largest and the most famous sports event."
With the high expectations surrounding 5G, there are many different 5G-related technologies in the spotlight, for example, 5G enabled smartphones, real-time VR, and self-driving cars, etc. However, the critical and influential functions offered by 5G are based on well-designed, cutting-edge communication technologies. Some of these technologies are patented and have a significant impact on those who manufacture 5G equipment or offer 5G services. In the following section, we will present the insights that we discovered and the phenomena that we explored (related to these patents.)
Legal Status
For our legal status analysis, we used patent applications as our statistical unit instead of simple families. Because simple families can have one or more patent members, it is troublesome to identify the legal status of a patent family. From the dashboard below, we can observe that a small proportion of the declared SEPs is inactive. On the other hand, both the active and pending patents have surpassed 40%.
Earliest Priority Date After June 2016
According to the 3GPP website, the 3GPP Technical Specifications Groups (TSG#72) took place on Jun 13-16, 2016, in Busan, Korea. A detailed work plan was agreed for Release-15, which is the first release of 5G specifications. The scope for Release-15 should support both standalone and non-standalone NR operations. Non-standalone NR in this context indicates using LTE as a control plane anchor, whereas standalone NR implies full control plane capability for NR. In other words, some of the existing LTE technologies are probably workable on non-standalone NR operations. To target the legitimate potential 5G inventions, we should consider the inventions with the earliest priority date after June 2016. Our results show that only 30% of the patent families meet our assumption.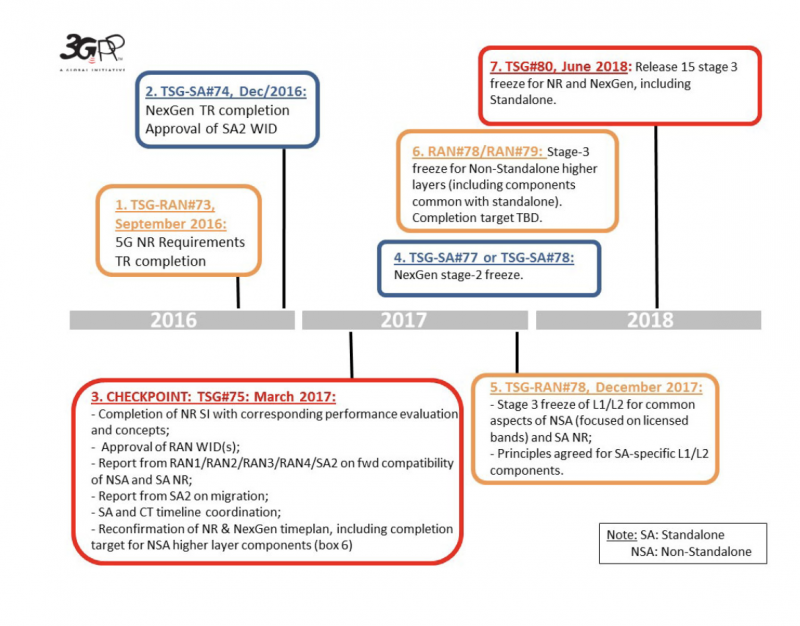 Uncertainty Issues
In our last report
,

we discussed over-declaration issues and the consequences that they might bring. As you can see from the charts below, we have presented a "total share" pie chart where you can see that almost 64% of the data has no issue date. The PCT patents predominantly cause this. In the rightmost stacked bar chart, we have excluded the data that has no issue date.
From the cumulative statistics table that only considers quantity, it's easy to discover the ranking differences by adopting different perspectives and by utilizing various combinations of filters. In other words, to uncover a more accurate and more in-depth understanding of 5G SEP declaration data, it's crucial to integrate the domain knowledge of standards, patents, SEPs, and data skills.
We believe that the value of insight derived from our data research is provable, providing that the data interpretation is both meaningful and useful to those who wish to understand this field better.
Data disclaimer: We have used commercially reasonable efforts to ensure that the data provided is complete and has been obtained from reliable sources. The information contained in this report is current as of the date of this report and may not reflect any circumstances that occur after such date. This report is not intended as legal advice. All information is provided "as-is" and we make no representation or warranty of any kind. We will not be liable for any lost profits, revenues, indirect, special consequential, exemplary or punitive damages resulting from this report.