In recent years, many Asia enterprises located in Mainland China have experienced a certain degree of influence resulted from U.S.-China trade war and other marketing factors. WISPRO has provided these kinds of enterprises with professional legal consultancy services when enterprises optimize the patterns and the structures of operation and transactions. Here are some responses and observations:
The market shares of manufacturers and suppliers in the supply chain have changed, then it affects their business opportunities and revenues.

These enterprises progressively move their manufacture bases and sales bases from Mainland China to Southeast Asia and start to set up new factories. Therefore, it brings soaring prices of industrial real estate in Southeast Asia countries.

In response to the identification of the origins, many enterprises endeavor to optimize the function of group's global operation bases and modify the transaction structures.

Many enterprises gradually adjust transactions patterns and focus on the services or the intangible assets in the transactions, such as technical services, operation management services or technology licensing, etc.

International well-known brand enterprises progressively adjust the deployment of the professionals in China operation sites and enhance the procedure and mechanism of manufacture certification. As a result, OEM and suppliers improve the flexibility of relocating factories and scheduling each sites' resources.
The aforementioned responses could be still involved in other issues, such as cross-border taxation and transfer pricing. Thus, it is better for Asian enterprises to conduct a tabletop exercise in advance in the uncertain era.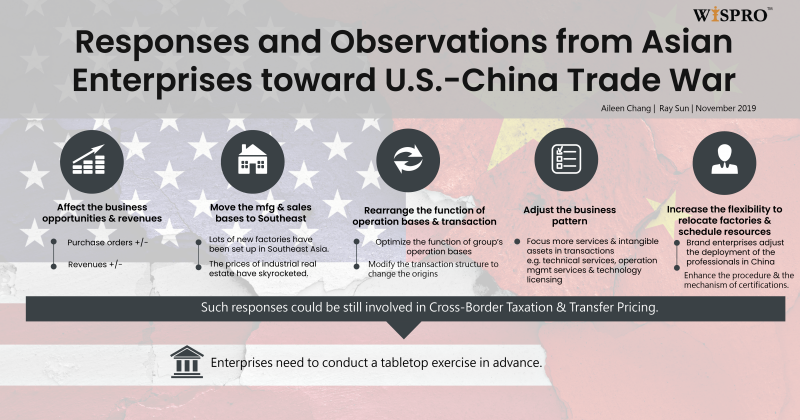 The Author:Aileen Chang / Ray Sun