Fisker changes strategy and plans to use Volkswagen's MEB platform for $30,000 electric SUV. WISPRO Analyst Eugene Lu: the modularization of automotive components could lower automotive manufacturing costs and benefit startups.
Henrik Fisker is an American automotive designer. His classic works include BMW Z8 and VLF Destino V8. After Henrik participated in Tesla's body design in 2007, he founded Fisker, an electric vehicle start-up company with the same name. As a result, Tesla filed a lawsuit for the stealing of trade secrets.
According to a recent report by Electrek, Fisker not only raised US$50 million but also expects to go public through a reverse merger. These funds will be used for the production of Fisker Ocean, a new electric SUV product. The report further pointed out that Henrik Fisker announced on Twitter that the price of Fisker Ocean starts at US$29,999 and that the key to providing a low price is the adoption of Volkswagen's high volume MEB platform, combined with Fisker's unique business model and development process.
However, the announcement of the use of Volkswagen's modular platform is not exactly the same as Fisker's previously declared strategy. Fisker has claimed in the past that its own solid-state battery technology has achieved a key breakthrough, enabling electric vehicles to travel 800 kilometers after one minute of charging (current record of Tesla's Model S is 647 kilometers). In other words, Fisker will temporarily shelve its own battery technology and use Volkswagen's relatively mature technology.
WISPRO Analyst Eugene Lu points out that Fisker's new strategy is a reasonable adjustment, and there are observations from this case:
New battery technology research and development is a long-term investment for Fisker

: solid-state battery technology has the advantages of high electric energy density and high power. It is regarded as one of the alternatives to lithium-ion batteries. However, the development and commercialization of battery technology require huge resources. Besides, Li-ion battery technology and fuel cell technology are highly competitive alternatives. If Fisker insists on using their own technology, more risks would be taken.

OEMs will have a higher degree of collaboration to reduce costs and risks

: Fisker has a long history of the automotive design business and is bound to master much know-how in designing and prototyping. In addition, it has existing advantages in branding and channels. In fact, it is not necessary to invest in the development of the entire vehicle. With the collaboration with traditional OEMs or parts suppliers, it can shorten the commercialization timeline or reduce the risk of failure, and enter the market earlier to compete for the market share.

Modularization of the automotive components:

The price of owning an EV is one of the key factors for the popularization of electric vehicles. In order to reduce production costs, the modularization of auto parts will be a long-term trend, which will also make traditional OEMs or start-ups develop modular sub-systems or components. For example,

Audi

,

Volkswagen

, or

Ree

.

Design and Service will provide more value

: As mentioned above, in the era of the modularization of auto parts, there are no obvious differences in automotive hardware specifications. The differentiation of brand image will come from paying more attention to user experience, including innovation in industrial design and service.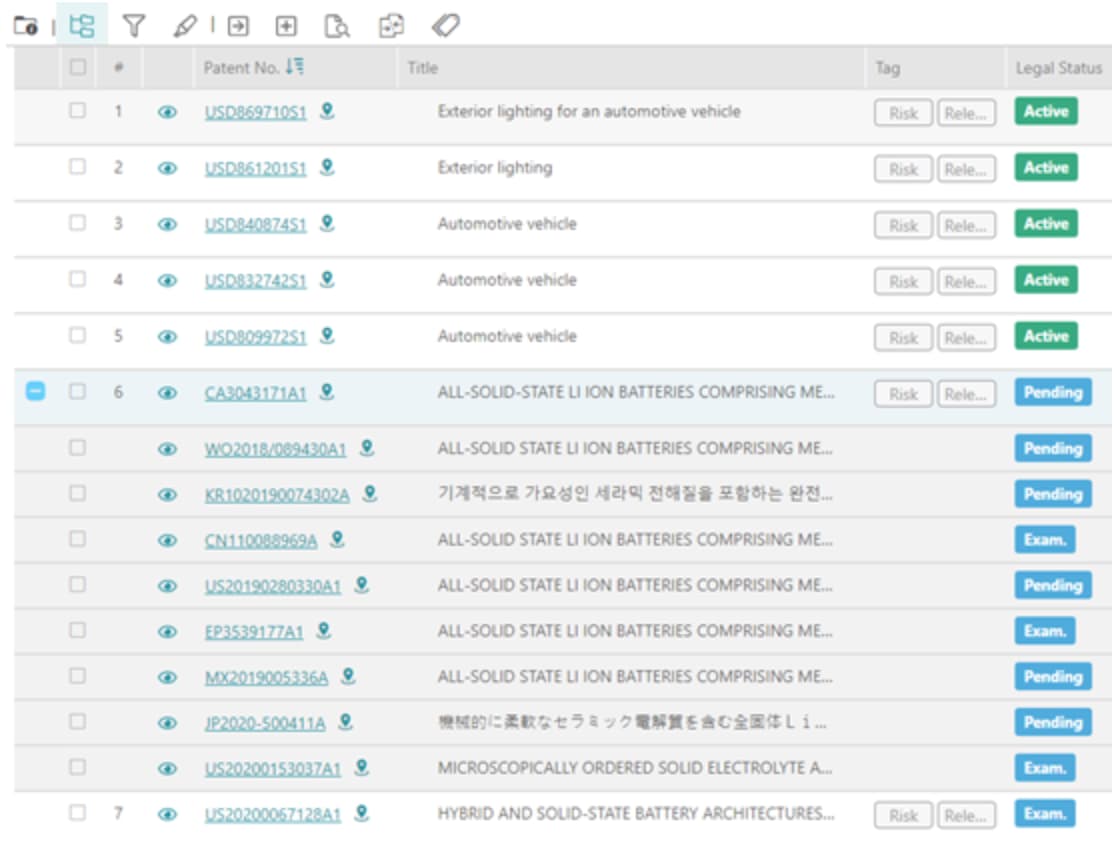 Source: Patentcloud's Patent Search
As shown in the above figure, by using Patentcloud's Patent Search to observe the patent portfolio of Fisker Inc. We can see that from the total of 15 patent applications, 5 are design patents, and the other 10 are invention patents related to solid-state batteries. It can be seen that Fisker attaches great importance to car design and solid-state battery technology deployment.
It is worth continuing to observe whether Fisker's strategy change has worked. For example, in the short-term, can Fisker be able to successfully launch cost-effective products and achieve sales results by combining hardware resources from outsides? Also, in the long-term, can the success of commercialization feed the R&D business of solid-state batteries? Relevant industry professionals such as automotive component suppliers can find insights through the tracking and analysis of industry dynamics, investment information, M&A information, and patent information, to form strategies accordingly.
The importance of a structural description of the invention in patent applications
I, Daniel Ko, have talked to many inventors, and most of them are really good at explaining how their invention works differently from the others and why their invention is better than the others.
However, describing the invention in terms of functions or advantages in a patent application would not meet patentability requirements. For example, while the invention operates in a manner different than the prior art, but if it has the same structure as the prior art, it would not be patentable over the prior art. 
Likewise, no matter how good the invention is, if it has the same structure as the prior art, it would not be patentable over the prior art. That is to say; the invention should be described in terms of structure. For example, when drafting a patent application, it would be necessary to describe what elements or arrangements thereof resulting from the invention performing differently or better than the prior art. 
If these elements and their arrangements are not disclosed, taught, or suggested in the prior art, the invention is patentably distinguishable from the prior art. Such prior art can be found using Patentcloud by InQuartik.
The ConVeX project is over and it will pave the way for 5G commercialization on connected vehicles with C-V2X.
The 3-year Cellular Vehicle-to-Everything (C-V2X) trial project "Connected Vehicle-to-Everything (V2X) of Tomorrow" (ConVeX) jointly launched in 2016 by the car manufacturer Audi, the telecommunications equipment manufacturer Ericsson, the communication chip manufacturer Qualcomm, the transportation system manufacturer Swarco and the Kaiserslautern University of Technology finished in July [1]. The project also delivered its final report to the public [2]. Swarco's executive director, Michael Schuch, said: "Connecting vehicles to transportation facilities through C-V2X can provide safer and more efficient vehicle driving."
The project was based on the 3rd Generation Partnership Project (3GPP) standards and conducted field tests of C-V2X architecture in different environments (see Figure 1 below). The use cases included Vehicle-to-Vehicle (V2V), Vehicle-to-Pedestrian (V2P), Vehicle-to-Infrastructure (V2I), and Vehicle-to-Network (V2N). For example: by using the sensor fusion of vehicles, facilities, and pedestrians with dynamic maps, traffic management can be enhanced (see Figure 2 below).
The ConVeX project also paves the way for 5G commercialization for connected vehicles with C-V2X in the future. It is believed that when the C-V2X standards are introduced into actual product development, various simulation scenarios, communication architectures, and test results may take the project information as a reference. At the same time, ConVeX's system architecture and participants also show that the implementation of 5G standard technology is not only for mobile phones or telecommunications equipment, but also extends to other industry-related products and applications, such as traffic systems. On the other hand, it also means that the stakeholders of Standard Essential Patents (SEPs) may improve their monetization through adjusting the deployment of C-V2X related SEPs and claim their patent rights to receive license fees from the potential targets in diverse fields.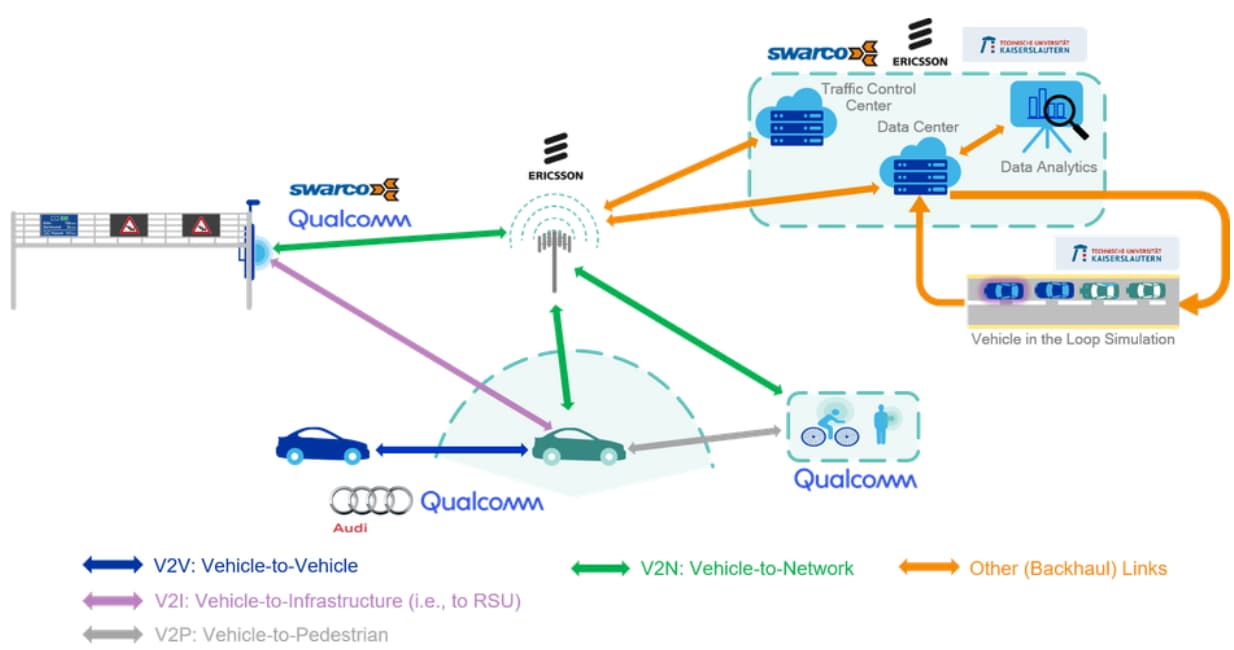 Figure 1. C-V2X architecture
(Source: https://convex-project.de/index.html)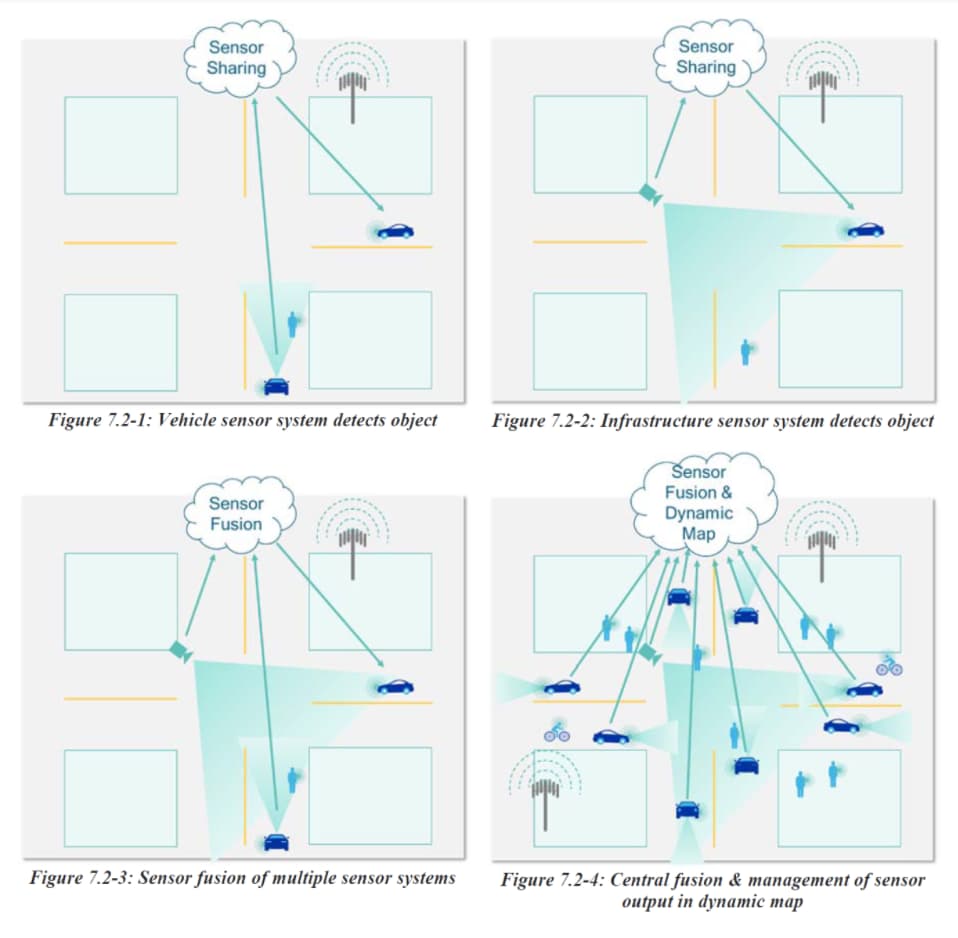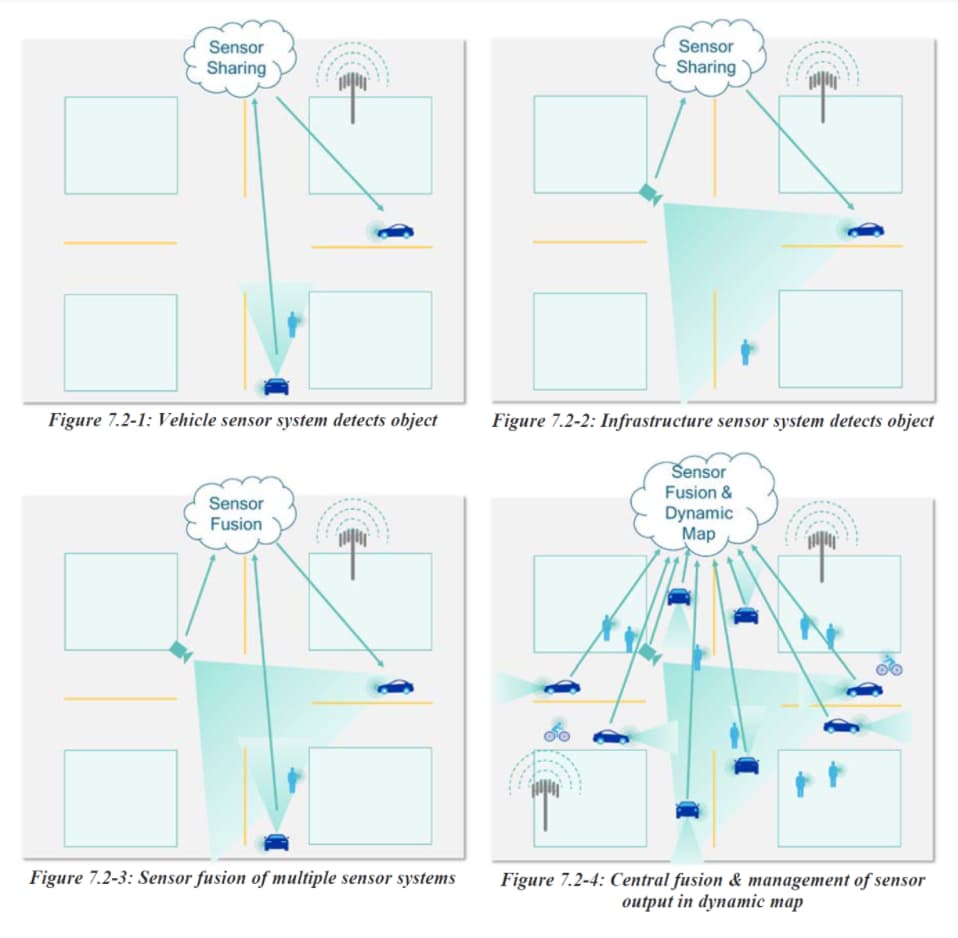 Figure 2. C-V2X use case: sensor fusion
(Source: https://convex-project.de/onewebmedia/D7.1_Final_Report_Field.pdf)