Keeping an Eye on Self-Driving Technologies: A LiDAR Perspective
As LiDAR technology develops, Level 5 self-driving cars may become a reality in the near future.
Self-driving cars will reduce the probability of accidents; they will also increase the mobility of people with disabilities. Besides, LiDAR technology has additional unexpected applications, such as replacing the controversial US-Mexico wall and being used to maintain social distancing during the COVID-19 pandemic.
Over the last few years, the number of LiDAR patent applications has increased significantly. 
Apart from major market players, such as Waymo, Valeo, Bosch, Denso, Uber, and Baidu, there are many LiDAR companies worth keeping an eye on. Analyzing their patenting activity of the past two decades with Patent Vault, we discovered the following key information:
Trends in global patent applications for LiDAR

Global deployment of certain listed key players 

Differences in the application behavior of companies from different countries
For companies, especially start-ups, the most concerning question should be: Will the size of the patent portfolio affect funding ability? 
From 2015 to 2018, the LiDAR patents filed by our listed companies in the United States increased by 1300%, while those in China increased by 500%.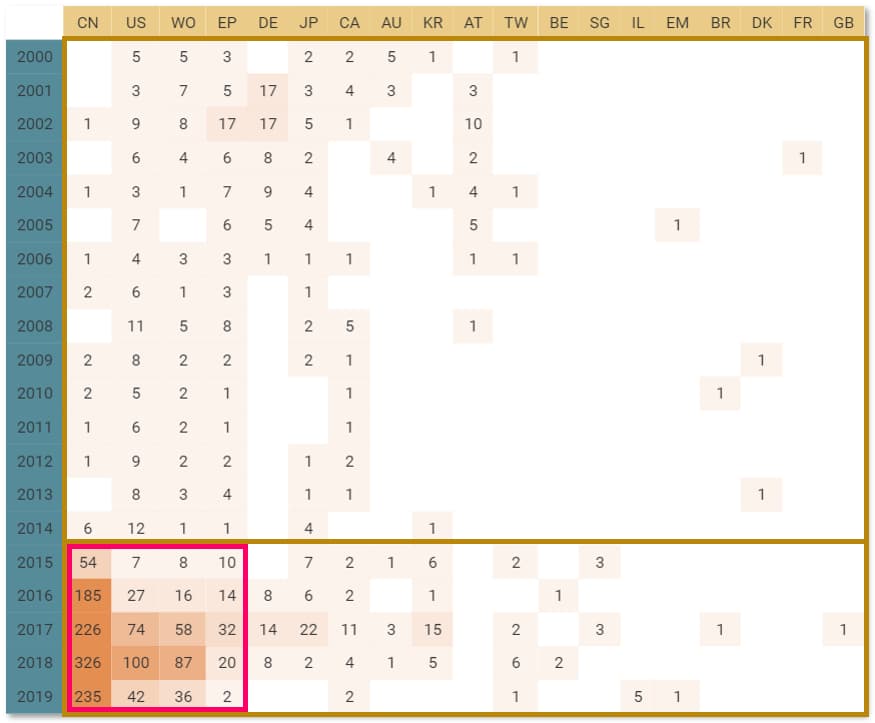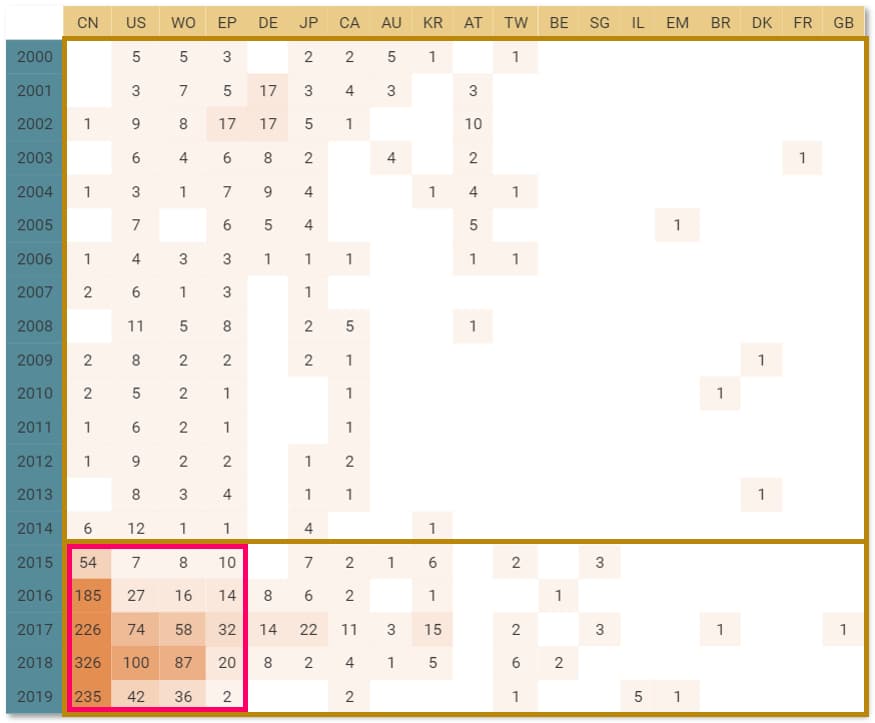 The significant increase of LiDAR patent applications demonstrates that companies are devoting more and more resources into the research and development of LiDAR technology as we get closer to Level 5 autonomous driving.  
Although the growth of LiDAR patent applications is lower in China than in the United States, the number of LiDAR patent applications in China has been at least three times that of the United States since 2015. Therefore, investors should not overlook the market potential of China.
Chinese companies filed 1,126 patent applications, while the United States companies filed 923 patent applications.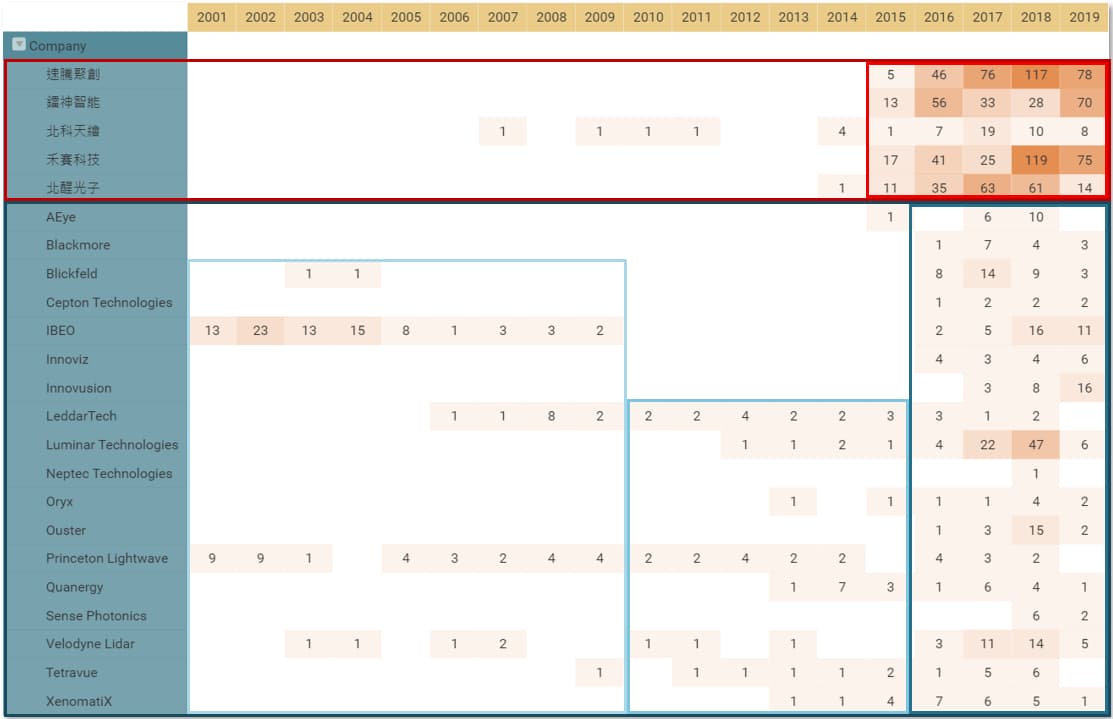 The LiDAR-related patenting activity has ramped-up over the last few years, especially for Chinese companies. Looking back at the development of LiDAR technology, it can be traced back to the early 2000s. During the early 2000s, a few companies had already started filing patent applications in LiDAR, including Ibeo, Princeton Lightwave, Blickfeld, and Velodyne LiDAR.  
Some of these companies have continued to put effort into the development of LiDAR technology and have continued to file patent applications (e.g., Ibeo). In contrast, some just filed a few patent applications in the early 2000s (e.g., Blickfeld). It was not until 2010 that more and more companies started to file patent applications in LiDAR; these companies include Luminar Technologies, Oryx, Quanergy, and XenomatiX.  
Beijing SureStar Technology was the first Chinese company to file LiDAR patents in 2007.
Prior to 2015, there were only a few filings in China. The boom in LiDAR patent applications for Chinese companies happened one year earlier, with a more significant increase (from less than 10 LiDAR patent applications before 2015 to over 1,000 patent applications between 2015 and 2019). 
The top five Chinese companies with LiDAR patent applications are Robosense (322), Hesai Technology (277), Leishen Intelligent system (200), Benewake (185), and Beijing SureStar Technology (53).  
However, it is essential not to focus solely on the number of patents; attention should also be paid to the quality of the patents. 
Chinese companies owned 92% of the Chinese patents, while the U.S. companies had a broader global coverage.

The Chinese companies hold a significant share of the patents of their own country and own 92% of the Chinese patents overall. The U.S. companies have the broadest global coverage with filings in 16 different patent offices. The European countries (e.g., Germany) tend to file more EP applications than the patent applications of their home country. It is interesting to see the diverse patenting behavior of companies from different countries; many reasons could lead to these behavioral differences, e.g., the difference in government support.
Over 1.6 billion USD invested in LiDAR in 2019.
As we move closer to full automation of autonomous driving, LiDAR has become one of the main focuses for investors. Later we will discuss the trends in investments and patent applications in LiDAR and the comparison between two key market players, Robosense and Innoviz. Hopefully, through these analyses, we will be able to answer whether or not the size of the patent portfolio will affect funding ability.
The companies listed in the charts used for our analysis were chosen based on their size and their focus on LiDAR technologies.