According to reports, the four-year ConVex1 C-V2X (Cellular Vehicle-to-Everything) trial—which the German government invested in—successfully ended last month. Swarco—a leading provider of traffic solutions that participated in the trial—concluded that C-V2X would be added to traffic infrastructure product portfolios based on the trial results. Additionally, last month, Qualcomm, the world's communications leader, and San Diego Regional Proving Ground (SDRPG) announced the launch of C-V2X direct communication program2 in California, which uses 5.9GHz LTE direct communication technology to provide vehicle communication tests and case studies on real roads.
C-V2X is a connected-vehicle technology that combines wide-area cellular networks and direct communication. Specifically, the C-V2X defined by 3GPP currently mainly includes LTE-V2X and 5G NR-V2X. The LTE-V2X communication protocol is completed in the communication standards R14 (2017) and R15 (2019); the NR-V2X communication protocol designed for self-driving cars was unveiled in the second edition of the 5G standard R16 last month, laying the foundations for the future of C-V2X; moreover, the communication standard R17, which is expected to be completed before Q4 2021, will specifically strengthen NR-V2X to meet the technical requirements of getting connected-vehicles on the road by C-V2X.
The rise of C-V2X can promote the rapid development of connected-vehicle technology and bring many benefits, such as: improving traffic safety, increasing road utilization rate, saving energy and carbon reduction, and road condition monitoring. Especially for self-driving cars— which have been a hot topic over the years—connected-vehicle technology can enhance perception ability. In terms of the classification of self-driving technology, starting from Level 4, vehicles should be able to monitor the driving environment, and connected-vehicle technology can enable vehicles to receive various types of environmental information, such as traffic signs, road conditions, and the position of pedestrians. For Level 4 semi-autonomous driving, or even Level 5 fully autonomous driving, the integration of connected-vehicle technology is essential.
However, 5G's C-V2X is not the only connected-vehicle technology. There is also the DSRC (Dedicated Short-Range Communications) from IEEE that has been developed since 2012. However, with the establishment of the 5G R14 standard, some research reports between 2017 and 2018 compared C-V2X to DSRC and found that C-V2X is superior to DSRC in terms of performance, distance, and reliability.
According to GMI's research3 in 2018, the C-V2X market is expected to grow by 10% annually between 2019 and 2025; moreover, the GSA's report4 in 2019 shows that there are already 25 telecommunication operators participating in C-V2X related tests worldwide.
Therefore, the author believes that C-V2X will divide the original connected-vehicle market and promote the evolution of self-driving car systems. Besides, from the perspective of patent data, C-V2X (or its equivalent phrases) has only appeared in European and American patent databases since 2017 (as shown in Chart 1) Thus, there is plenty of room for patent portfolios. The protocols of NR-V2X will be strongly enhanced in 5G standard R17—the high technology compatibility between C-V2X and self-driving cars. Based on these facts, the author believes that C-V2X patent portfolio deployment is bound to be a major focus of the transportation, automotive, and communications fields in the future.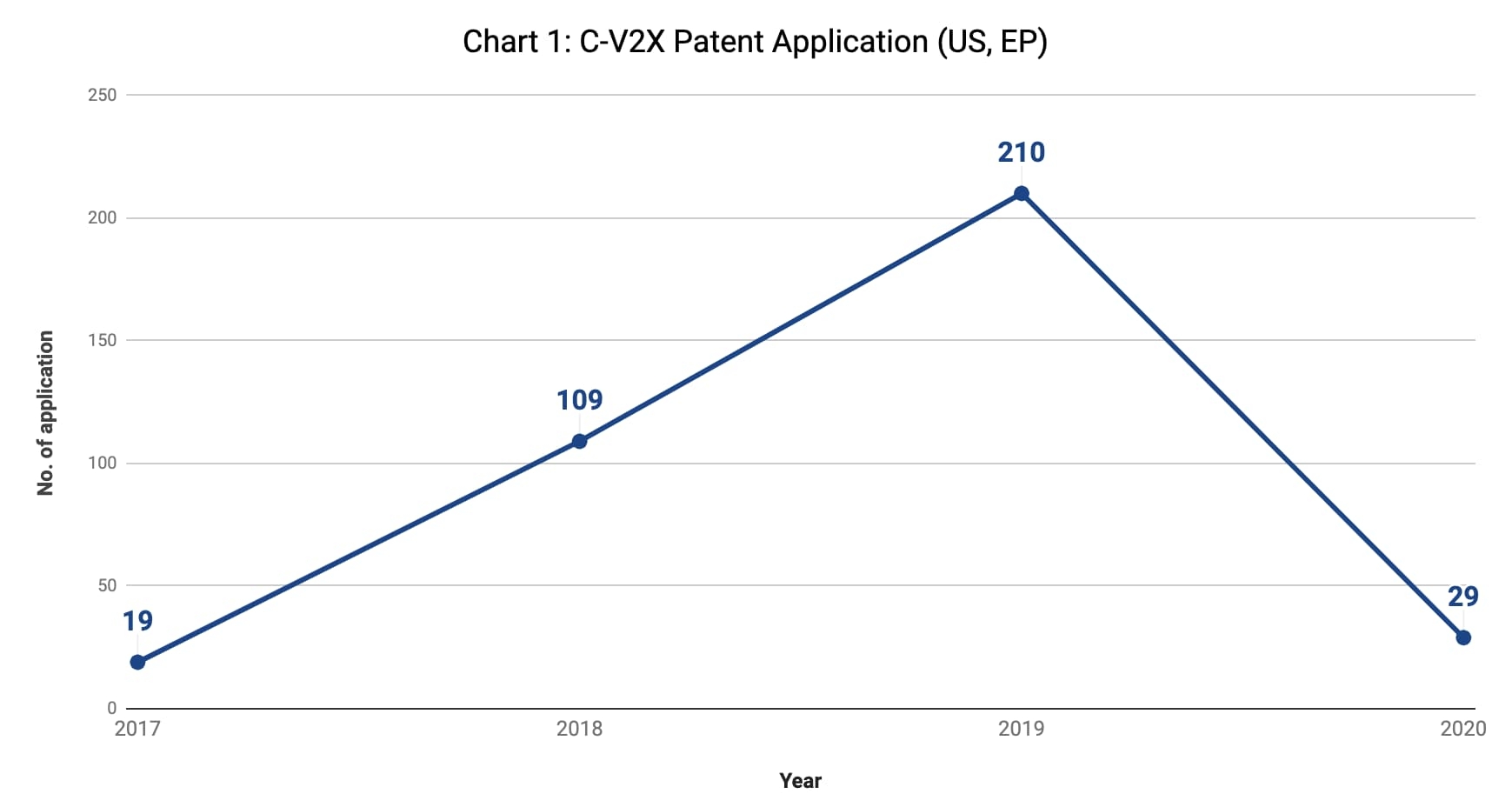 ---
1 ConVeX connected vehicle: https://www.itsinternational.com/its7/news/case-proven-c-v2x-says-german-trial
2 Qualcomm and San Diego Regional Proving Ground: https://www.qualcomm.com/news/releases/2020/07/21/san-diego-regional-proving-ground-joins-efforts-qualcomm-launch-c-v2x 
3 C-V2X market: https://www.gminsights.com/industry-analysis/cellular-vehicle-to-everything-c-v2x-market
4 C-V2X statistics by GSA: https://gsacom.com/paper/cellular-v2x-ecosystem-key-statistics/