Since the debut of Apple's Airpods in 2016, it's hard not to notice increasing numbers of people enjoying music and videos with a pair of small, white, streamlined earbuds in their ears. As reported this September by DigiTimes, the PCB and IC substrate suppliers have seen a significant rise in the shipment of True Wireless Stereo (TWS) gadgets in the second half of 2020. We didn't need to wait until the end of 2020 to see that happen, as Apple's financial statement — published in 2019 — shed some light on what was to come.
Apple's 2019 10-K report stated the sales of "Wearables, Home and Accessories" had increased by 41% since 2018 — the boost was mainly due to the high net sales of Airpods and the Apple Watch. According to a 2019 article published by FORTUNE, Apple would sell 50 million Airpods at $159 per pair, which would account for 8 billion in revenue. Compared to the net sale figures in the 10-K report, more than one-third of the revenue in the "Wearable, Home and Accessories" category comes from Airpods.

The market success of Airpods should not be attributed to Apple alone, but also to the supply chain partners who make it feasible to integrate acoustic, Bluetooth, and transducer ICs into the tiny space of the headset. As Airpods become an essential revenue source for Apple, it could be speculated that the patents involved in this product may tell us more about Apple's next steps relating to TWS technology development.
Using Due Diligence, it takes just a few seconds to analyze the earbud patent portfolio of Apple Inc. At first, we identified the earbud-related patent portfolio under the ownership of Apple Inc. and its affiliates. There are 270 patent applications corresponding to 84 families in the scope of the due diligence analysis.

The first chart shows that Apple's earbud patent portfolio's global coverage is over 13 countries. The US is the major filing country, with over 120 applications; this is around six times higher than the EP and CN applications (2nd and 3rd major filing countries).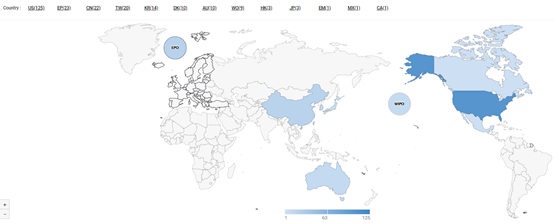 Moreover, the distribution of patented earbud technology for Apple's portfolio has a remarkable focus on the Electric Communication Technique (H04 by IPC classes), followed by Music Instruments, Acoustic technology (G10 by IPC classes) with a much-reduced patent count. Because of this, the patented technology that Apple has attempted to use to cover their TWS products is mainly focused on electric communications.

By deconstructing the H04 patents by subclasses in more detail, the H04R subclass related to Loudspeakers, Microphones… is the dominant technology classification under the H04 hierarchy. When looking deeper into the H04R subclass, transducer (H04R 1/00) and deaf-aid set (H04R 25/00) are the top two technologies that Apple has filed for mostly.
It's not surprising to see that one focus of Apple's earbud technology is on transducers. Interestingly, the focus on deaf-aid technology indicates that a medical application could be incorporated into future AirPods products.
Through the patent due diligence analysis, some information — not previously released to the public — may be uncovered via patent data. On the one hand, we found out that Apple has excellent global patent coverage for Airpods — over 13 countries. On the other hand, we may see more functional applications (e.g., medical) being integrated into the future versions of Apple's TWS products. By taking advantage of the patent data, supply chain partners can be better prepared to meet their clients' specification requirements proactively.